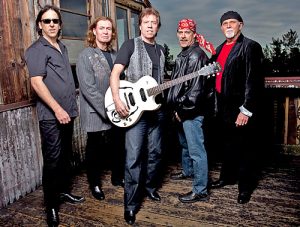 George Thorogood & The Destroyers tienen confirmadas dos fechas en nuestro país, la primera será el 5 de Julio en Madrid y al día siguiente, el 6 de Julio en el Festival Blues Cazorla que estará compartiendo cartel con Fito y Fitipalidis, Betty LaVette o Chris Kanne como primeros artistas confirmados.
La venida a nuestro país de George Thorogood,  guitarrista-vocalista de blues-rock ha levantado gran expectación dentro de los seguidores a este estilo musical.
Hasta la fecha han publicado dieciséis discos de estudio, incluyendo dos que fueron platino y seis de oro. Han vendido más de 15 millones de copias en todo el mundo consolidándose como uno de los máximos exponentes del blues americano.
Obtuvo su máxima popularidad con su canción «Bad to the Bone» o la peculiar versión del tema de John Lee Hooker «One Bourbon, One Scoth, One Beer».
Influenciado por los más carismáticos blues-man del momento, gran admiración por John Lee Hooker  uno de sus maestros , Bo Diddley, Buddy Guy… entre otros músicos de los años setenta. En su formación a habido varios cambios desde sus inicios, año 1973, solidificando la banda con los siguientes miembros, Jeff Simon a la batería, Billy Blough al bajo, Jim Suhler a la guitarra rítmica, Friends Leach al saxofón, piano y George Thorogood a la voz y guitarra. Ir preparando las zapatillas más viejas para terminar de destrozarlas porque la fiesta y diversión están aseguradas.
George Thorogood & The Destroyers gira española 2013
5 de Julio Sala La Riviera Madrid
6 de Julio FESTIVAL BLUES CAZORLA 2013 Cazorla  Jaén