"The Rolling Stones: 50 Years of Satisfaction", es el título de la monumental exposición que se expondrá en el Museo del Rock & Roll Hall of Fame a partir del 24 de mayo hasta marzo del año 2014 con motivo del 50 anivesario de la banda en Cleveland, constituyéndose como la mayor muestra de memorabilia, de objetos y recuerdos más grande y más completa jamas expuesta.
La exposición de los Rolling Stones en el museo de Cleveland estará ubicada en dos grandes plantas del museo, la quinta y sexta, el horario semanal de 10 de la mañana hasta las cinco y media de la tarde y los miércoles abierto hasta las 21 horas.
Entre los objetos que tendrá la exposicion "The Rolling Stones: 50 Years of Satisfaction", incluyen objetos personales de la propia banda como la chaqueta verde que llevaba Mick Jagger durante la gira Steel Wheels Tour, la guitarra Rosewood Fender Telecaster de Keith Richards, la guitarra Zemaitis de Ronnie Wood, la guitarra Vox Teardrop de Brian Jones, dibujos Charlie Watts, la chaqueta que llevaba Keith Richards en la portada del disco "Big Hits (High Tide and Green Grass)" en 1966, el collage original para realizar la portada de
Además la exposición "The Rolling Stones: 50 Years of Satisfaction", quiere que todos los aficionados de sus Satánica Majestades participen enviando fotografías de objetos, imágenes de conciertos u objetos al propio museo a través de varias redes sociales como Facebook, Instagram o Twitter para luego hacer un vídeo documental sobre ello, utilizando el hashtag #rockhallsatisfaction.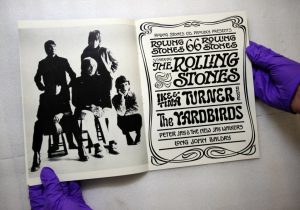 Con motivo del 50 aniversario de The Rolling Stones, hemos querido conocer la influencia de la banda en las personas más relevantes del entorno de Dirty Rock, a quienes agradecemos profundamente su colaboración.
Chuck Berry Jr, hijo de Chuck Berry, la mayor influencia de los Stones, Gay Mercader el primer promotor que trajo a los Stones a España y en sucesivas ocasiones, Willie Nile, Elliot Murphy, Dan Baird, Eilen Jewell, Jonny Kaplan, Javier Escovedo, Dusty Wakeman, Share Ross, Walter Daniels, Brett Wolfie, Danny Champ, Ben Ringel The Steepwater Band, The Last Internationale,  Manny Montana, Gay Mercader, Alfred Crespo, Jorge Ortega, Jordi Güell, Sergio Smoking Stones, Rafa Vegas (Rosendo), Diego Hernández (Keiko), Mauro Comesaña (The Soul Jacket), EvilMrSod, Ben Ringel (The Delta Saints), Susan Santos, Fernando Navarro, Pablo Galiano, Nico Álvarez, Javier Vargas, Marcos Coll, Marcelo Champanier, Quique Gómez, Breis, Manel Celeiro, Itziar Temprano, Oscar Moon, Iñaki Estévez, Mürfila, Enric Rivero Armengol, Javier Cosmen, Fredy Christ, Frank Wild Year, Frecho Alva, F.J. Curra, Marvin Green, Carlos Ulises, Lagenda de Tenerife, Roberto Sánchez, Pepe Serna, Nano Barbero, Jes Senra, Jah Ras, Edui Bercedo y Juha Kakkuri.
Al contactar con ellos, algunos nos solicitaron preguntas concretas y se nos ocurrió formularles las siguientes:
¿En qué año o época conociste a The Rolling Stones?
¿El hecho de conocerlos supuso una influencia para ti o tu música?
¿Destacarías alguna canción o disco de The Rolling Stones? ¿por qué?
¿Destacarías algún concierto de ellos?
¿Que piensas que puede esperarse del 50 aniversario de The Rolling Stones?
Artículo de la visita de Darryl Jones, bajista de The Rolling Stones a España y Tenerife con Miles Smiles.