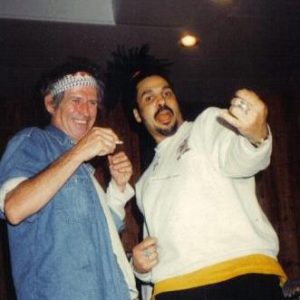 «Another goodbye to another good friend»
Babi Floyd, ex componente de los X-Pensive Winos de Keith Richards en su disco «Main Offender» (1992) y su correspondiente gira entre el 92 y 93 como vocalista de la banda, además de colaborar con grandes músicos como Billy Joel o Warren Zevon falleció el pasado 12 de junio tras una dura lucha contra el cáncer.
Babi Floyd actuó recientemente en la edición 12th Annual Jazz Foundation Gala en el Apollo Theatre en Harlem de Nueva York el pasado 17 de mayo interpretando la canción «All Alone» co escrita con de Charlie Drayton.
Babi Floyd participó en los álbumes de Billy Joel «52nd Street» y «An Innocent Man», «Life'll Kill Ya» de Warren Zevon, la banda sonora de The Commitments, y álbumes de Spin Doctors, George Benson, Neville Brothers, The Fabulous Thunderbirds y Bette Midler.
Babi Floyd junto a Sarah Dash, fueron los coristas de The X-Pensive Winos durante el disco «Main Offender» (1992) y durante la gira que los llevó a presentar el disco Keith Richards & The X-Pensive Winos en Estados Unidos y Europa en 1992 y comienzos de 1993 en Estados Unidos justo antes de comenzar Keith Richards a grabar con The Rolling Stones Voodoo Lounge.
«Another goodbye to another good friend»