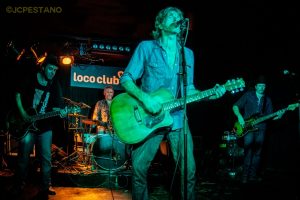 La iniciativa-llamamiento de LocoClub, realizada en las redes sociales, creando una lista de invitados abierta al público para estimular a todos los amantes de la música en directo, y a aquellos que bien por la jodida economía ó por pereza no acuden en estos tiempos difíciles, tuvo anoche una muy buena acogida.
Y como reclamo nos ofrecieron a The Re-Mains, una banda del otro lado del planeta, en el que fue su primer concierto de su primera gira por España y Europa.
Los australianos The Re-Mains vienen con su quinto disco de estudio bajo el brazo, Vregedonomy, ejecutando su directo de country rock con la confianza de haberse medido en numerosos festivales del género(Splendor in the Grass, East Coast Blues and Roots, Tamworth Country Music).
The Re-Mains, una banda bien engrasada que, con la buena voz y la buena planta de Mick Daley, y con un magistral Leigh Ivin en la steel guitar, consiguen llegar a momentos intensos en un concierto que la banda dilató en exceso su estancia sobre el escenario.
Muy buen ambiente en el Club que se vio sorprendido por la aparición de Billy Gibbons (ZZTop), lo que originó el encendido automático de todos los móviles de la sala en busca de la foto y la espantada del propio Billy, en su intento de no influir su estancia en una distracción para el grupo que actuaba.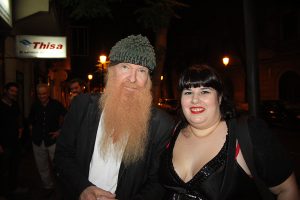 La colega fotógrafa-redactora Lorena Mora (https://www.rockinvalencia.com/) estuvo atenta y logró pillarlo en su huida, demostrando su valía en busca de la noticia.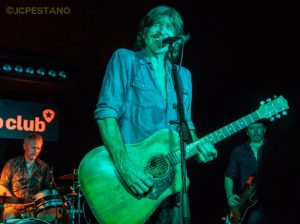 Escucha Vregedonomy, de The Re-Mains.
Fotos de Juan Carlos Pestano, Litelestudio (https://www.litelestudio.com/)
The Re-Mains
LocoClub, Valencia, 18 julio 2013, 22:30.