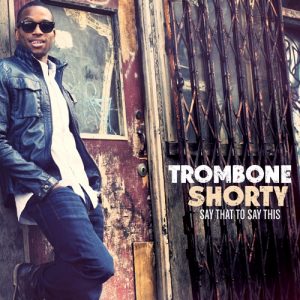 Trombone Shorty, Troy Andrews,  publica nuevo y tercer disco «Say That to say This» el próximo 10 de septiembre tras sus magníficos trabajos anteriores del trombonista y trompetista, «Backatown» (2010) y el multipremiado «For True» (2011) del músico de New Orleans, protagonista de alguno de los episodios de esa maravilla serie televisiva llamada «Treme».
Trombone Shorty y su nuevo disco de diez canciones,  «Say That to Say This», está producido por Andrews el cantante Raphael Saadiq, y en el que versiona un tema de The Meters «Be My Lady».
Escucha el primer single de «Say that to Say to this» de Trombone Shorty.
La música de Trombone Shorty Andrews se mueve entre el Jazz, Rock, Soul, Funk, Rap y Rhythm & Blues, una especie de mezcla entre álbumes de The Meters, Isley Brothers y Neville Brothers, y que se hace acompañar de su banda, Orleans Avenue, en el que todos durante sus conciertos bailan, cantan y vuelan todo lo que se les ponga por delante.
Escucha «Long Weekend» el segundo adelanto del nuevo disco de Trombone Shorty.
Trombone Shorty ha colaborado recientemente en los nuevos ábumes de Rod Stewart, The Zac Brown Band, Erick Clapron, Dr. John o Cee Lo Green, y ha contado en su discografía con colaboraciones de la talla de Rebirth Brass Band, Jeff Beck, Warren Haynes, Stanton Moore, Kid Rock o Ben Ellman, y sus actuaciones en el New Orleans Jazz & Heritage Festival (2012), y el In Performance at the White House: Red, White & Blues (2012), con Obama y figuras como Mick Jagger, Gary Clark Jr., Jeff Beck o B.B. King supuso el despegue definitivo y comercial del genial músico norteamericano.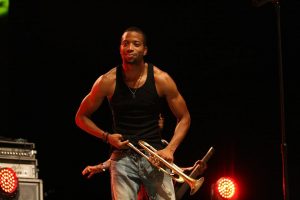 Trombone Shorty y sus apariciones en la serie de televisión «Treme», que trata sobre el barrio de Nueva Orleans llamado Treme, y que tras ser devastado por el huracán Katrina, sus vecinos, músicos, cocineros y demás vecinos convienen en reconstruir sus vidas y la ciudad.
Escucha «Say That to Say This», el nuevo disco de Trombone Shorty al completo.