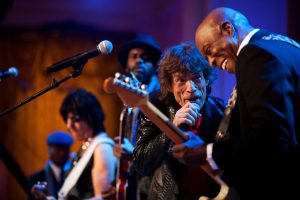 Noche de Blues en la Casa Blanca el pasado 22 de febrero, celebrando el "Black History Month" con el presidente de Estados Unidos, Barack Obama, su familia e invitados, y una nómina de grandes estrellas que actuaron esa noche, Mick Jagger, B.B. King, Buddy Guy, Gary Clark Jr., Derek Trucks, Jeff Beck, Booker T.,  Keb Mo, Susan Tedeschi, Warren Haynes, Troy "Trombone Shorty" Andrews y Shemekia Copeland, dirigido por un genial Booker T.
El concierto estaba incluido en el programa de eventos llamado "In Perfomance at The White House: Red, White and Blues" que se viene celebrando desde el año 1978, cuando Jimmy Carter llevaba la administración norteamericana, siendo el East Room y el West Wind sus principales lugares de celebración. El programa engloba cada género de actuación artística que va desde el Pop, Country, Rock, Blues, Jazz, Gospel, Teatro y Danza.
En Dirty Rock os explicamos un poco la historia del evento en un artículo publicado días antes, puedes verlo clicando aquí.
La noche fue un auténtico espectáculo, en el que descaradamente Mick Jagger y los suyos, cometieron un crimen en la Casa Blanca, como así lo hizo cantando "Commit a Crime" junto con el inconmensurable Jeff Beck, letra como no, del lobo Chester Burnett, más conocido como Howlin' Wolf.
Pero el espectáculo comenzaba al son de "Green Onions", tema del propio director de la "House Band" para la ocasión, Booker T. (& The MG'S). Entraba el presidente de los Estados Unidos de Norteamérica, Barack Obama en el "East Room" a la hora señalada las 07:25 pm ET, 00:20 horas de la noche (hora canaria).
Dirty Rock te ofrece el concierto íntegro en el siguiente vídeo:
Watch Red White and Blues on PBS. See more from In Performance at The White House.
En su discurso felicitó a todos con el "Happy Mardi Gras" (Felices fiestas de carnavales), y encumbró al Blues como clave en el origen de futuros géneros, como lo fue en el Rock and Roll, Rythm and Blues, Hip Hop, Soul, Funk, etc. Lo calificó como "universal, nadie pasa a través de la vida sin dolor, disfrute, triunfo o tristeza. El Blues coge todos estos sentimientos y los convierte en una nota o letra."
Terminó expresando que "la música nos enseña cuando nos encontramos en esos "Crossroads" o encrucijadas de la vida, no rehuimos de nuestros problemas, los hacemos propios, les hacemos frente, les cantamos y al final los convertimos en arte". ("The music teaches us that when we find ourselves at a crossroads, we don't shy away from our problems. We own them. We face up to them. We deal with them. We sing about them. We turn them into art.").
Ovación para el presidente, seguidamente Obama llama a "The King of the Blues" a subirse al escenario B.B. King para interpretar junto a casi todos los componentes del concierto (faltaba Mick Jagger), "Let the Good Times Roll" un clásico de Nueva Orleáns de "Lovin'" Sam Theard.
BB King concluyó su actuación con su clásico "The Thrill Is Gone", ¡inmejorable!
La actriz Taraji P. Henson hacía de maestra de ceremonias, Troy "Trombone Shorty" Andrews cautivó al público con su Blues incendiario de New Orleáns "St. James Infirmary", un tema que popularizó el incunable Josh White.
La electricidad comenzaba a revolotear por la sala Este, entran en acción Buddy Guy y Jeff Beck, "Let Me Love You Baby" y un solo de Beck con "Brush With The Blues", brutales las dos actuaciones, especialmente la de Jeff Beck, las guitarras automáticamente echaban fuego, aquello acabó incendiándose.
Y llegó momento esperado por todos, ¡¡Mick Jagger!! el clásico de Otis Redding "I Can't Turn You Loose", impresionante la entrada de Mick al escenario y su actuación, por supuesto todo el mundo en pie y bailando. Al terminar su actuación recordó su encuentro con Sonny Boy Williamson en Inglaterra, cuando éste vio a los Stones, y prometió que haría de ellos unos músicos que tocasen Blues "real bad". Momento homenaje y tributo a otro de sus héroes, Hubert Sumlin con un Jeff Beck inconmensurable, la guitarra de Jeff aullaba como Howlin' Wolf y Sumlin, algo de otro mundo, una actuación para enseñarla en todas las escuelas del mundo, "Commit A Crime", un tema del que el propio Jagger reconoció que era algo inadecuado el tocarlo en la Casa Blanca, al ser tan malvado.
La actuación de Mick Jagger concluyó con "Miss You" con Shemekia Copeland y Susan Tedeschi haciendo los coros. Poco antes recordó su visita a Chess Records en Chicago en 1964 y todos sus músicos fueron tan amables y generosos con los Rolling Stones en aquel tiempo, entre ellos BB King. Una actuación de casi 20 minutos.
Otro de los momentos de noche fue la actuación de Gary Clark Jr., que me parece que después de esa noche y la siguiente en el tributo a Hubert Sumlin con Keith Richards, se ha "doctorado" y encumbrado en lo más alto. "Beat Up Guitar" tema escrito por Shamekia Copeland e interpretado por ella, increíble, "Catfish Blues" homenajeando a Jimi Hendrix y "In The Evening (When The Sun Goes Down)" un tema de Sonny Boy Williamson. El tejano es un auténtico portento con su guitarra y voz, y dejó boquiabiertos a todo el público con sus maneras de interpretar el Blues. Booker T al piano, impecable.
Keb' Mo' y su inseparable dobro atacaron con un tema propio "Henry" absolutamente precioso, "I'd Rather Go Blind" era el momento tributo para otra de las más grandes, Etta James. Susan Tedeschi, Derek Trucks y Warren Haynes hacían la delicias del público, muy emotivo.
De nuevo sobre el escenario Buddy Guy, Jeff Beck y Gary Clark, con un temazo de Eric Clapton. Los latigazos guitarreros eran tales que Buddy Guy rompía una cuerda, vuelta a empezar, "Five Long years" ¡que interpretación! Mick Jagger no aguanta más y se sube al escenario con ellos. Buddy Guy comienza a bromear con Obama y Michelle durante la actuación, cantándoles aquello de "Have you ever been mistreated? You know just what I'm talking about, I worked five long years for one woman, she had the nerve to put me out" ("Alguna vez has sido maltratado? Sabes de lo que te hablo, he trabajado cinco largos años para una mujer y ahora tiene la cara dura de echarme") la complicidad entre los músicos y Obama era incontenible y desenfrenada.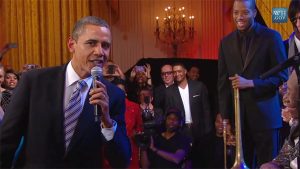 Obama se subía al escenario de nuevo para agradecer y dar las gracias al Blues ("¿Se lo han pasado bien esta noche?"), recordaba que el Blues proviene del Delta, de Kansas City y de Saint Louis en Missouri, pero que para él y su esposa Michelle, el Blues no sería lo mismo sin su canción preferida "Sweet Home Chicago" del gran Robert Johnson, todos sobre el escenario, una locura generalizada.
El desenfreno fue tal que Buddy Guy y Susan Tedeschi animaban a Obama a subir al escenario diciéndole que "si empezaba algo, tenía que terminarlo, súbase al escenario y cante señor Presidente". Una hora y cincuenta y cinco minutos, el presidente quería marcharse a casa con su familia, era tarde, pero quería reencontrarse con el diablo y Robert Johnson en el "Crossroads" de la Casa Blanca.
Pero, Obama agarró el micrófono y cantó:
"Come on, baby don't you want to go, Come on, baby don't you want to go, To the same old place, sweet home Chicago".
Setlist del concierto:
"Let the Good Times Roll" .
"The Thrill Is Gone" (B.B King)
"St. James Infirmary" (Trombone Shorty)
"Let Me Love You Baby" (Buddy Guy, Jeff Beck)
"Brush With The Blues" instrumental (Jeff Beck)
"I Can't Turn You Loose" (Mick Jagger)
"Commit A Crime" (Mick Jagger, Jeff Beck)
"Miss You" (Mick Jagger, Shemekia Copeland, and Susan Tedeschi,)
"Beat Up Guitar" (Shemekia Copeland, Gary Clark, Jr.)
"Catfish Blues" (Gary Clark, Jr.)
"In The Evening (When The Sun Goes Down)" (Gary Clark, Jr.)
"Henry" ( Keb' Mo')
"I'd Rather Go Blind" (Susan Tedeschi, Derek Trucks, Warren Haynes)
"Five Long years" (Buddy Guy, Jeff Beck, Gary Clark, Mick Jagger)
"Sweet Home Chicago" (Todos, más Obama)