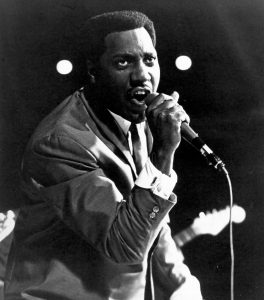 "It's early in the morning, About a quarter till three, I'm sitting' here talkin' with my baby, Over cigarettes and coffee, now".
Otis Redding el indiscutible rey y dueño del Soul sureño y Rhythm & Blues murió muy joven, a los 26 años de edad tras estrellarse su avión en un lago de Wisconsin un 10 de diciembre de 1967, y en la que además perecieron todos los miembros de su banda The Bar-Kays y su mánager, su carrera fue muy corta, pero dejó un legado importantísimo, hoy rendimos tributo al "King of Soul" en el aniversario de su nacimiento.
Otis Redding poco antes de morir en aquel fatal accidente había grabado "(Sittin' On) The Dock of the Bay" (1968) junto al genial guitarrista y productor Steve Crooper, fundador de Booker T & The MG's y colaboradores de Redding, un año después la muerte para el grandísimo sello Stax Records.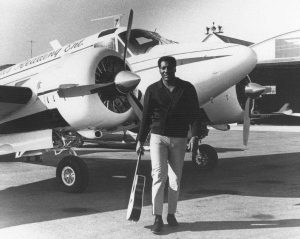 Otis Redding componía la gran mayoría de sus canciones para el sello Stax en Memphis tras una loca noche de 1962, convenció al guitarrista y músico de sesión de sello Steve Crooper para que lo esuchara cantar una de sus canciones "These Arms of Mine".
El modus operandi de componer Otis Redding era casi siempre el mismo, canción en su cabeza, estudio de grabación y tarareo a cada uno de los músicos de la sala para componerla, de Stax Records y la voz de Otis salieron obras maestras como "These Arms of Mine", "Try a Little Tenderness", "Hard To Handle", "Cigarettes and coffe"o "Mr Pitiful" entre otras muchas.
Otis Redding llegó a ser tan grande que destronó por primera vez a Elvis Presley en 1967 como el mejor cantante del año, siéndolo contínuamente Elvis los nueve anteriores.
Otis Redding junto a Wilson Picket los dos cantantes de Soul que más emoción y energía le dieron al género, llevándolo al terreno del Soul más bailable, con una interpretación apasionada y unos irresistibles metales.
Hasta los mismísimos The Rolling Stones quedaron encantados con la versión de Otis Redding de "(I can't get no) Satisfaction", grabada un año más tarde que los británicos en 1965. Keith Richards y Mick Jagger han llegado a comentar muchísimas veces que la versión de Otis Redding supera a la original.
Hace unos meses se ponía a la venta en formato vinilo y digital un disco esencial para cualquier amante de la buena música "The Deepest Soul of Otis Redding, Lonely & Blue", un recopilatorio con algunos clásicos y otros no tanto para el gran público, Ottis Redding en estado puro de pasión y sentimiento.
"It's early in the morning, About a quarter till three, I'm sitting' here talkin' with my baby, Over cigarettes and coffee, now".
In Memoriam.