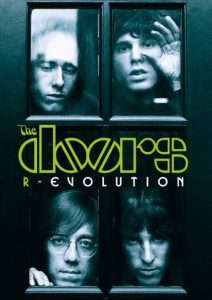 «R-Evolution» es el título sobre el nuevo documental de The Doors que sale a la venta el 3 de diciembre y en el que se muestran imágenes inéditas de la banda californiana, material de vídeo de conciertos, películas y televisivo inéditos y comentarios de ohn Densmore, Robby Krieger y del reciemte fallecido Ray Manzarek entre otros.
«R-Evolution» cuenta en su edición de lujo con un libro de 40 páginas con letras de canciones y fotos de The Doors.
El nuevo documental con material inédito sobre The Doors cuenta imágenes de televisión entre 1967 y 1968 en diferentes de cadenas de televisión norteamericanas, una de ellas su entrevista con Dick Clark,  imágenes de Elektra records para promocionar su música con la canción «Break On Through», el controvertido vídeo de «The Unknown Soldier» durante la guerra del Vietnam, imágenes de su concierto en el festival de la Isle de Wight en 1970, etc.
El listado completo de canciones que se podrá escuchar en el nuevo material de The Doors, «R-Evolution» es el siguiente:
1. Break On Through (To The Other Side): Music Film – January 1967
2. Break On Through (To The Other Side): Shebang – March 6, 1967
3. The Crystal Ship: American Bandstand – July 22, 1967
4. Light My Fire: American Bandstand – July 22, 1967
5. Light My Fire: Malibu U – August 25 1967
6. People Are Strange: Murray The K In New York – September 22, 1967
7. Moonlight Drive: From The Jonathan Winters Show – December 27, 1967
8. The Unknown Soldier: Music Film – February 1968
9. Hello, I Love You: Musik Für Junge Leute: 4-3-2-1 Hot And Sweet – September 13, 1968
10. Touch Me: The Smothers Brothers Comedy Hour – December 15, 1968
11. Wild Child: Music Film – July 1969
12. Roadhouse Blues: Music Film – February 1970
13. Crawling King Snake: GTK (Get To Know) – December 1970
14. The Changeling: Music Film – April 1971
15. Gloria: Music Film – October 1983
16. People Are Strange: Music Film – 1980's
17. Strange Days: Music Film – 1984
18. L.A. Woman: Music Film – 1985
19. Ghost Song: Music Film – 1995
Extras
Love Thy Customer (music by The Doors) Ford Training Film- 1966
Outtakes: Malibu U, 1967
Break On Through (To The Other Side): Isle Of Wight- August 1970
Break On Through The Lens – Documentary