«Another goodbye to another good friend»
«This is the end, Beautiful friend, This is the end, My only friend, the End»
Ray Manzarek, teclista y miembro fundador de la banda californiana The Doors ha muerto hoy 20 de mayo a los 74 años de edad en Alemania tras una larga batalla contra el cáncer.
Ray Manzarek junto a Jim Morrison Robby a las voces y composición Krieger a la guitarra y John Densmore a la batería crearon The Doors en 1965 en la ciudad de Los Angeles hasta 1973, con dos discos más tras la muerte de Jim Morrison en 1971.
Ray Manzarek grabó nueve discos con The Doors, dos tras la muerte de Jim Morrison en 1971 como fueron «Other Voices» (1971) y «Full Voices» (1972) y el sonido propagado de sus  Gibson G-101 y Fender Rhodes, eran el sonido característico de The Doors junto a la voz y letras del poeta y genio Jim Morrison.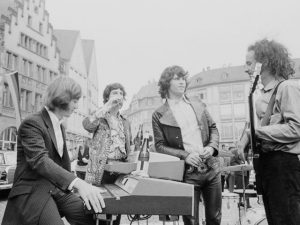 Ray Manzarek considerado uno de los mejores teclistas de la historia del Rock, junto a The Doors a mediados de los años 60, banda única e inclasificable, por su psicodelia inherente a su contexto cultural, gracias a la gran habilidad que poseían todos sus músicos, acompañada de poética y muchísimos trozos de Rock, Pop, Blues, y Psicodelia envueltos en la poderosa voz de Jim Morrison.
«Break on trough (on the other side)», «The End», «Light my fire», «People are Strange», «L.A. Woman», «Hello I Love You», «Riders on the Storm», «Roadhouse Blues», «Waiting for the sun», «You make me real», «The Spy» o «Queen of the Highway», hablan de la importancia de Ray Manzarek al sonido de The Doors.
Descanse en paz Ray Manzarek.
A buen seguro que el próximo 14 de junio el concierto denominado Spanish Hammond Organ Summit! con los mejores organistas de España rendirán tributo a Ray Manzarek con Julián Maeso, Marta Ruiz, Enrique Valdivieso, Daniel de Madariaga "Charras", Gabri Casanova, Luca Frasca y Kike Blanco, con una banda base formada por Antonio Pax a la batería y Carlos Murillo a la guitarra en la sala El Sol de Madrid.
«This is the end, Beautiful friend, This is the end, My only friend, the End»
«Another goodbye to another good friend».