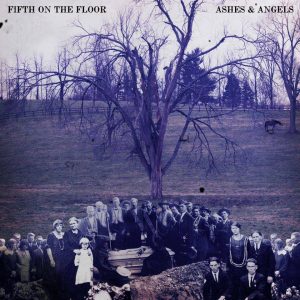 Fifth on the Floor publican su tercer disco de estudio «Ashes & Angels» en marzo de 2013, robusto álbum del cuarteto de Rock Sureño y Country procedente de Kentucky, en el que sus doce canciones han sido producidas por Shooter Jennings, Rachel Brooke y han contado con la colaboración del genial cantante Country alternativo Joey Allcorn, haciendo además una versión del «One Big Holiday» de los My Morning Jacket.
Fifth on the Floor está  formado por Justin Wells a la guitarra y voces, Matty Rodgers a la guitarra, Jason Parsons al bajo y Aaron Graham a la batería, grupo formado en el 2006, y que cuenta con dos discos anteriores a su nuevo «Ashes & Angels» como son «The Colour of Whiskey» publicado en el 2007 y «Dark and Bloody Ground» en el 2010.
Shooter Jennings se fijó en los de Kentucky para producir su nuevo trabajo «Ashes & Angels», álbum que pretenden dar un paso adelante en el ascenso de esta banda coetánea musicalmente a Reckless Kelly, Blackberry Smoke o Jason and the Scorchers.
Escucha «Ashes & Angels» de Fifth on the Floor.
«Ashes & Angels» de Fifth on the Floor, es uno de los mejores discos del 2013 para dirty rock magazine.