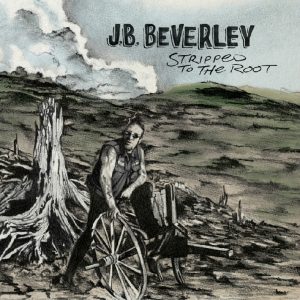 J.B. Beverly (Wayward Drifters, The Bad Habits y The Little White Pills) publica su primer disco en solitario "Stripped to the Root", un viaje por el mejor Blues, Country y Rock de este peculiar productor, compositor, guionista y propietario de los estudios Rebel Roots Studios (Old Crow Medicine Show, Blind Joe, Husky Burnette, James Hunnicutt) en North Carlolina.

Las canciones de "Stripped to the Root" son una colección de letras escritas entre 2010 y 2012 junto a su mejor banda J.B. Beverley & The Wayward Drifters, banda norteamericana muy conocida en el mundo del Alt Country a partir de finales de los años noventa.
J.B. Beverley como compositor se ha ganado el respeto de muchísimos músicos en Norteamerica que van desde autores como Hank III, John Carter Cash, Dale Watson, Bill Kirchen o Wayne "The Train" Hancock, tras sus comienzos en la escena musical de Washington en el mundo del Punk, Rockabilly y Bluegrass en los inicios de la década de los noventa.
Escucha "Stripped to the Root" de J.B. Beverley.
Es muy habitual ver a J.B. Beverly en giras junto a su amigo Hank 3.