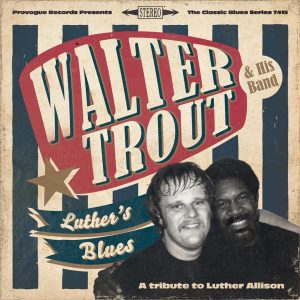 Walter Trout presenta su nuevo disco «Luther's Blues – A Tribute to Luther Allison», disco homenaje al grandísimo Bluesman Luther Allison, trece canciones interpretadas por este magnífico guitarrista norteamericano de Blues con más de cuarenta años en el mundo de la música, y más de una veintena de discos publicados, componente durante un tiempo de Canned Heat y de los Bluesbreakers junto a John Mayall en la década de los setenta.
Walter Trout, otro gran desconocido para el el gran público, es uno de los más grandes guitarristas de Blues del momento, su Fender Stratocaster ruge y suena a todo volúmen. Mike Bloomfield y Elvin Bishop de la Paul Butterfield Blues Band, junto a B.B. King y Jeff Beck son sus influjos.
Walter Trout rinde tributo a Luther Allison, otro irrepetible Bluesman en el que era característico su velocidad a la hora de tocar la guitarra, natural de Arkansas creció musicalmente en Europa, a pesar de rodearse en sus inicios en Chicago con los más grandes, Muddy Waters, Elmore James o Howlin Wolf. Luther Allison combinaba perfectamente su voz con la endiablada guitarra aderezada con mucho Rock, Soul, Reggae, Funk y Jazz.
Escucha «Luther's Blues – A Tribute to Luther Allison» de Walter Trout.