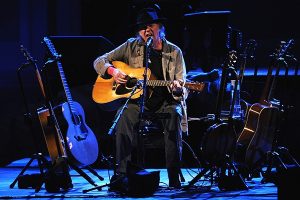 Neil Young presenta un nuevo vídeo en directo en el que interpreta "Mother Earth", tema que tocó el pasado 19 de enero en Jack Singer Hall de Calgary, Alberta (Canadá), durante una breve gira acústica de cuatro conciertos por su país natal denominada "Honor The Treaties", para recaudar fondos para rechazar la expropiación de terrenos en favor de perforaciones petrolíferas en la zona de Athabasca Chipewyan y su contaminacion.
En el nuevo vídeo de Neil Young "Mother Earth" aparecen imágenes de documental de Peter Mettler "Petropolis" para Greenpeace del 2009 de esa zona al suroeste de Canadá en Alberta denominada Athabasca Chipewyan, la segunda reserva mundial de crudo del mundo y que pretende ser destrozada.
Documental "Petropolis" dirigido por Peter Mettler.
Cartel de la mini gira acústica de Neil Young en Alberta denominada "Honor the Treaties" junto a Diana Krall.