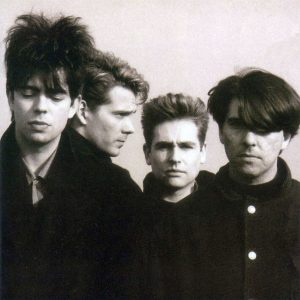 Echo and the Bunnymen publican nuevo disco «Meteorites» el próximo 27 de mayo tras cinco largos de su anterior «The Fountain» (2009) y en la que presentan los británicos su nuevo single «Market Place», liderados por Ian McCulloch, además de Will Sergeant, Gordy Goudie y Stephen Brannan.
El nuevo disco de los de Liverpool Echo and The Bunnymen, son una de las bandas británicas más importantes de New Wave y Post Punk mezclado con Psicodelia y Garaje de los 60, desde finales de los años setenta y comienzo de los ochentas, coetáneos también de bandas como Jesus & Mary Chain, The Psychedelic Furs, The Chameleons, Siouxsie & the Banshees o The Mighty Lemon Drops.
Escucha «Market Place» el nuevo single de Echo and The Bunnymen:
Segundo adelanto de lo nuevo de Echo and the Bunnymen en forma de vídeo «Lovers on the Run».
Escucha el nuevo disco de Echo and The Bunnymen titulado «Meteorites».

«Meteorites» el nuevo disco de Echo and The Bunnymen, está producido por Killing Joke, el bajista de Youth