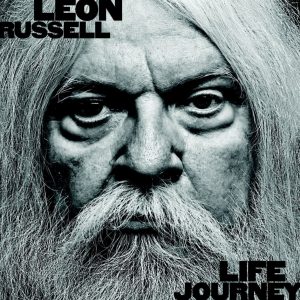 Leon Russell el grandísimo cantante, compositor, productor, pianista y guitarrista publica «Life Journey» el próximo 1 de abril un nuevo disco producido por su viejo amigo Tommy LiPuma (Miles Davis, Paul McCartney), y en el que aparecen temas clásicos de Robert Johnson, Hoagy Carmichael, Haven Gillespie & Beasley Smith, Duke Ellington o Billy Joel en temas como «New York State of Mind», «Georgia on My Mind,», «Come on in My Kitchen»,  «That Lucky Old Song,» «I Got It Bad and It Ain't Good» o el clásico de Little Willie John con «Fever», que es su primer single.
Escucha el nuevo single de Leon Russell versionando a Little Willie John «Fever».
Leon Russell que cumplirá 72 años, el día siguiente de la publicación de su nuevo disco «Life Journey», álbum al que le acompaña el bajista Willie Weeks, Abe Laboriel Jr a la batería y una pequeñna banda de jazz de Dixieland jazz.
Escucha «Life Journey», el último disco de Leon Russell.
Leon Russell decidió grabar «Life Journey» por expreso deseo de Elton John, tras grabar juntos el último trabajo de Russell, el espléndido «The Union» en el 2010 junto a un elenco de artistas realmente impresionante como Booker T. Jones, Neil Young, Robert Randolph y Brian Wilson.
Leon Russell con más de treinta discos de estudio es otro claro ejemplo de lo que siginifica ser un insigne desconocido para mucha gente a pesar de ser una de las grandes figuras musicales en Estados Unidos debido a su contribución a distintos géneros musicales como el Folk, Blues, Gospel, Bluegrass,Country, y Rock durante más de 50 años de carrera musical.
Leon Russell ha compuesto y arreglado canciones para Bob Dylan, Eric Clapton, George Harrison, Dean Martin, Ringo Starr, John Lennon, J.J Cale, The Beach Boys, Marvin Gaye, Barbra Streisand, B.B King, Willie Nelson, Frank Sinatra, Aretha Franklin, Ray Charles, Ike y Tina Turner, Joe Cocker, The Carpenters y un larguísimo etcétera.
Leon Russell músico virtuoso creció junto a su banda Wrecking Crew a finales d los años cincenta, tras ser descubiertto primeramente por Jerry Lee Lewis en una banda conocida como The Starlighter con el que estuvo de gira con Lewis dos meses.
La faceta de productor de Leon Russell y organizador de eventos fue prominente,  como lo fue la gira de Joe Cocker Mad Dogs & Englishmen, y la filmación de un documental, George Harrison le encargo la dirección musical a Leon Russell, quien en tiempo récord montó la banda base, sin apenas tiempo para ensayar para el Concierto por BanglaDesh el 1 de agosto de 1971 en el Madison Square Garden de Nueva York, o la fiesta cada año de celebración del 4 de julio de Willie Nelson Willie's 4th of July picnics.
Leon Rusell ha colaborado en grandes obras maestras como músico o compositor en el clásico de Willie Nelson "One For The Road", el Delta Lady de Joe Cocker, el A Song For You de Ray Charles,  o el Superstar de The Carpenters, son algunas de sus canciones interpretadas por otros, o su larga la lista de colaboraciones junto con Glen Campbell, The Rolling Stones, Gram Parsons, Eric Clapton, John Lennon, J.J. Cale,  Bruce Hornsby, B.B. King, Freddie King, Bill Wyman, Gram Parsons, Barbra Streisand, Ike & Tina Turner, Ricky Nelson, Herb Alpert, Frank Sinatra, Aretha Franklin, Dean Martin, Marvin Gaye, Steve Winwood, Delaney & Bonnie and Friends, The Monkees, The Ventures, The Beach Boys, The Byrds, The Ronettes, The Crystals, The Nitty Gritty Dirt Band, The Everly Brothers, The Righteous Brothers, The Flying Burrito Brothers, o The Tractors, entre otros.