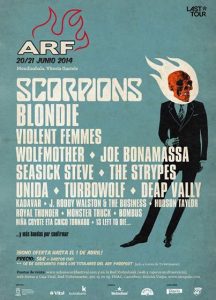 Azkena Rock Festival (ARF) da hoy  a conocer nuevos nombres J. Roddy Walston and The Business, The Strypes, Deap Vally,  Monster Truck y Hudson Taylor tras la incorporación de Scorpions hace unos días en la decimotercera edicion del festival que se celebra en Mendizabala, Vitoria los días 20 y 21 de junio de 2014.
Seasick Steve, Kadavar, Violent Femmes, Blondie, Wolfmother, Unida, Turbowolf, Royal Thunder, Bombus, el duo guipuzcoano Niña Coyote eta Chico Tornado, compuesto por Koldo Soret (Surfin kaos, Utikan, Chico Boom) y Ursula Strong (Zuloak, Las Culebras) y la banda vitoriana de metal 13 Left To Die, fueron las primeras bandas en anunciarse en el Azkena Rock Festival 2014
El festival Azkena Rock Festival ha dado una alegría por fin a todos sus asiduos con la inclusión hoy en el cartel del cuarteto de Tennesse J. Roddy Walston and The Business, compuesto por su cantante, pianista y guitarrista J. Roddy Walston, Billy Gordon a la guitarra, Logan Davis al bajo y Steve Colmus a la batería y del que su último y tercer disco editado el pasado mes de septiempre de 2013 «Essential Tremors» fue el mejor sexto disco internacional para dirty rock magazine con tambores de Rock sureño, Motown y espíritu Punk.
Otra buena sorpresa son el jovencísimo cuarteto irlandeses The Strypes que también publicaron su álbum debut el pasado mes de septiembre de 2013 titulado «Snapshot», y apadrinado por Elton John para ficharlos para su compañía Rocket Music Management en el 2012.
«Snapshot» de The Strypes es un magnífico disco producido por el aclamado Chris Thomas (Beatles, Sex Pistols, Elton John, Pulp, U2, Pink Floyd, Roxy Music, Brian Setzer, etc), iluminado por el Blues añejo, Rock and Roll y Rhythm & Blues de la vieja escuela y el Garaje Rock más frenético.
Monster Truck, banda canadiense de Hard Rock elegida el año pasado en su país como grupo revelación en la edición de los Juno Awards 2013 editaba el pasado mayo de 2013 su primer larga duración «Furiosity«, tras tener en su haber dos EP's (Monster Truck (2010) y The Brown (2011).
Deap Vally lo componen dos chicas desde la ciudad de Los Angeles, ellas son Lindsey Troy (guitarra y voz) y Julie Edwards (batería y voz), Blues y Garaje Rock primigenio con un álbum de estudio «Sistrionix» (2013) publicado hasta el momento desde que comenzaran su andadura musical en el 2011, tras labrarse una sólida presencia en diferentes países y europeos.
Deap Vally visitaron España el pasado año por tres veces, una teloneando a Mumford & Sons en marzo, en el FIB y otra en solitario el pasado mes de diciembre. Deap Vally son las nuevas The Runaways de la época. Su nuevo disco «Sistrionix», está producido por Lars Stalfors (The Mars Volta, Cold War Kids), sonidos que recuerdan a Black Sabbath, Led Zeppelin, The Doors o The Black Keys.
Hudson Taylor son otro joven dúo irlandés de Pop Folk compuesto por Alfie (20 años) y Harry (21 años) y que publicarán el próximo otoño su primer larga duración tras haber editado tres EP's hasta el momento Battles (2012) con el que alcanzaron el número uno en su país, «Cinematic Lifestyle» (2012) y «Osea» (2013).
El Azkena Rock Festival 2013 ARF, lanzó desde el pasado 13 de enero una oferta para comprar bonos de 2 días saldrán a un precio de 56€ + gastos de distribución, que estará vigente hasta el próximo 1 de abril. La oferta cuenta con un descuento de 5€ para todos los titulares del ARF Passport. El código de descuento será el nº de DNI (sin la letra) de los poseedores del pasaporte.
Puntos de venta:
Red Ticketmaster
www.ltinews.net, teléfono 902 15 00 25
FNAC
Carrefour
Oficinas HalcónViajes,
www.atrapalo.com