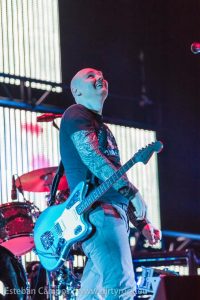 Billy Corgan líder de The Smashing Pumpkins anuncia la publicación de un nuevo disco experimental, titulado «AEGEA» y también la reedición del álbum «Adore» (1998) de The Smashing Pumpkins con seis discos, incluyendo el álbum original en mono y una nueva versión en estereo, la cual fue remasterizada por Bob Ludwig, así como tres discos con material inédito y un DVD en directo con archivos de la gira que realizó la banda en 1998.
Su lanzamiento está previsto para próximo el verano.
The Smashing Pumpkins son noticia también porque han anunciado dos nuevos álbumes para el 2015 titulados "Monuments To An Elegy" y "Day For Night" y estarán producidos por Howard Willing con el que ya trabajó en el disco "Adore" (1998), cuarto álbum de estudio de los de Chicago.