Malcolm Young guitarrista y miembro fundador de AC/DC podría haber sufrido una apoplejia debido a un coágulo de sangre en su cerebro hace unas semanas, según ha informado Darryl Mason en su blog australiano The Orstrahyun.
Darryl Mason ha asegurado en su blog, que ese derrame cerebral le impide hacer vida normal y le imposibilita tocar la guitarra, según aseguran familiares y amigos de Malcolm Young.
El estado de Malcolm Young es bastante grave desde que sufriera el derrame hace un mes, aunque no significa que se recuperará.
AC/DC ha hecho oficial el siguiente comunicado hoy 16 de abril: Que después de 40 años dedicado a todo una vida a AC/DC, Malcolm Young se tomará un descanso debido a problemas de salud. Malcom quiere dar las gracias a todos los fans de la banda por su apoyo. AC/DC pide que se respete la privacidad tanto de él como de su familia durante este tiempo. El grupo continuará haciendo música.
(After forty years of life dedicated to AC/DC, guitarist and founding member Malcolm Young is taking a break from the band due to ill health. Malcolm would like to thank the group's diehard legions of fans worldwide for their never-ending love and support.In light of this news, AC/DC asks that Malcolm and his family's privacy be respected during this time. The band will continue to make music).
Brian Johnson cantante de AC/DC confirmó el pasado mes de febrero en una radio norteamericana, Gater 98.7 FM, que la banda australiana entraría en el estudio a grabar el próximo mes de mayo y que habrá una gira de 40 conciertos para agradecer a todos sus fans éstos 40 años.
Esperamos la pronta recuperación de Malcolm Young, miembro fundador de AC/DC.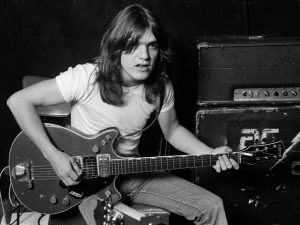 Extracto de lo escrito por Darryl Mason en su blog The Orstrahyun.
About 3 weeks ago, founding member, rhythm guitarist, co-producer and co-songwriter Malcolm Young had a stroke, which left a blood clot on his brain.

When AC/DC reunited at the start of April to begin a month of rehearsals, in the lead-up to new album recording sessions, Malcolm discovered he couldn't play. At least, he couldn't play like he used to play.

Nothing has been officially confirmed, as of this writing, but friends and family members have been discussing what happened to Malcolm for the past couple of weeks. The blood clot, resulting from the stroke, is believed to be why Malcolm couldn't keep working.

Although friends have described Malcolm's condition as serious, it doesn't mean he won't recover. People do get better after strokes, and people do recover lost skills.

But friends and family of band members believe the decision was made last week to call it quits.