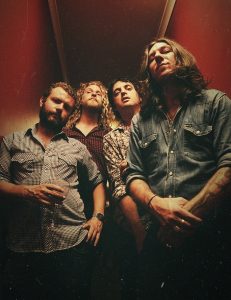 The Widowbirds publican nuevo disco "Heart's Needle" el 25 de abril de 2014, el mismo día que coincide con el comienzo de su segunda gira europea y española que llegará a nuestro país el próximo 13 de mayo con doce conciertos de esta banda de Rock & Roll australiana liderada por Simon Meli y Tony Kvesic, ex componentes de los magníficos Ooh La La.
"Heart's Needle" el nuevo disco de diez canciones de The Widowbirds, formado por Simon Meli (guitarra y voces), Tony Kvesic (guitarra), Jan Bangma al bajo, e Ivan Jordan a la batería, desmenuzan en cada una de las diez canciones del nuevo disco mucha más escencia galvánica y frenética que en su anterior trabajo.
The Widowbirds pretende en su nuevo disco "Heart's Needle" que el oyente devore todo el disco como si se tratara de una aventura por descubrir, con muchas referencias por descubrir, ritmos machacones y guitarras incendiarias, con una potencia y crudeza muy directa, a diferencia de "Shenandoah" (2011).
Fechas de la gira europea y española de The Widowbirds:
13/05/14 Monzon,Sergio's Zona Rock
14/05/14 Zaragoza,  La Ley Seca
15/05/14 A Coruña,  Mardi Gras
16/05/14 Cangas,  Salason
17/05/14 Avilés,  Centro Niemeyer
18/05/14 Leon, Gran Cafe
19/05/14 Cádiz, Sala Supersonic
20/05/14 Estepona,  Louie Louie
21/05/14 Madrid,  La Boîte
22/05/14 Murcia,  Sala B
23/05/14 Castellon,  Pub d'Leyend
24/05/14 Barcelona,  Rocksound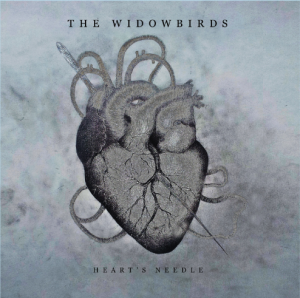 The Widowbirds, responde a las preguntas de Dirty Rock magazine en la siguiente entrevista de la mano de su vocalista y guitarra Simon Meli.
1. Second European and Spanish Tour for The Widowbirds with two new band members. Which are your expectations?
Segunda gira europea y española para The Widowbirds con dos nuevos miembros en la banda. ¿Cuáles son tus espectativas?

We hope to see some familiar faces and make a few more friends. We love big families and we want a very big rock'n'roll family of our own. Our current bassist Jan Bangma actually played keyboards on our previous European tour, so we have one new member, drummer Ivan Jordan.

We are also expecting better weather this time, Aussies are not used to very cold winters!

Esperamos ver de nuevo caras conocidas y hacer nuevos amigos en España. Nos encanta tener una gran familia, de rock'n'roll para hacerla nuestra. Nuestro actual bajista Jan Bangma tocó el teclado en la anterior gira europea, así que el único miembro nuevo es el batería Ivan Jordan. Las expectativas sobre nuestra gira española, es que haga buen tiempo, no estamos acostumbrados a tener inviernos fríos.
2. In sitting down to record "Heart's Needle", what were your goals and do you think you accomplished them?
¿Discutiendo sobre la grabación de tu nuevo disco "Heart's Needle", cuáles fueron tus objetivos y si ellos se lograron?
We wanted the sound of the record to better reflect the sound of the band live. After solid touring in Europe and Australia, we developed a more muscular sound and wanted to capture it on disc. We also wanted it to be punchy and concise and I'm telling the truth when I say that we are all proud of the record and very pleased with the result.
Queríamos reflejar en nuestro nuevo disco, el sonido que hacemos en directo. Tras una consolidada gira en Europa y Australia, queríamos desplegar un sonido más musculoso y capturarlo en el disco. También queríamos ser contundentes y concisos, y al final lo hemos logrado y nos sentimos todos orgullosos del resultado final del disco.
| | |
| --- | --- |
| 3. How did "Heart's Needle" come together after your first album back in 2011 "Shenandoah"? | ¿Cómo se forjó la realización de "Heart's Needle" tras vuestro anterior álbum "Shenandoah" en el 2011? |
| After our previous record and tour, Simon and myself decided that we wanted to write a classic 10 track record like my most of our heroes had done before. The tracks were written between the two of us and fleshed out by the band in lounge-room jams. The music was all recorded live as a band in the one room and I think we managed to steal some magic that was floating around in the studio. | Tras nuestro anterior disco y gira, decidimos que queríamos escribir diez temas sobre nuestros héroes musicales. Las canciones fueron escritas entre dos de nosotros y durante las sesiones la banda al completo fueron dando cuerpo a ellas. El disco fue grabado en directo y en una sola sala para captar la magia que flotaba en el estudio durante aquellas sesiones. |
| 4. Should be a story behind the title of your new album, "Heart's Needle"? | ¿Hay alguna historia detrás del título del nuevo disco, "Heart's Needle"? |
| Heart's Needle is actually the title of a collection of poems by W.D. Snodgrass. We loved the sound and imagery of those words. Hearts yearn, hearts burn and I dare say that most of us can relate to those feelings. Right now, I can't think of anything more intelligent to say about it. | "Heart's Needle" es el título de una colección de poemas de W. D. Snodgrass. Nos fascinó ese colorido y sonoridad de sus palabras. El ansia de los corazones, corazones abrasados, un auténtico desafío relatar todos esos sentimientos. Ahora mismo no encuentro algo más interesante que lo describa. |
| 5. How would you describe The Widowbirds sound and who are your biggest musical influences? | ¿Puedes describirme el sonido de The Widowbirds y cuáles son tus principales influencias musicales? |
| We are essentially a soul-rock band, that is what comes naturally to us and there is nothing more pleasing to our ears than the sound of a groovy rock band. We are groovy and we want to share the groove and start a groovy revolution. We can't go past all the artists on the Stax and Chess labels, as well as all the British invasion and Americana acts. | The Widowbirds somos esencialmente una banda de Soul Rock que hace música de forma natural a tus oídos de forma elegante. Y no podemos obviar a todos a esos artistas que han pasado por sellos discográficos como Chess o Stax, la Invasión Británica o Americana. |
Escucha "Shenandoah" el anterior álbum de The Widowbirds.
| | |
| --- | --- |
| 6. Could you tell Spanish audience The Widowbirds musical background and Who inspires you to do what you do and which musicians that have influenced your sound and approach to creating your own style of music? | ¿Puedes contar a la audiencia española tu experiencia y aprendizaje musical y qué te inspira al realizarla? |
| The Widowbirds have been together for almost 4 years, our first record being released in 2011. All the current members have played together in various projects over many years so we all feel at home when playing together and we are especially happy with the chemistry of this current line-up. Music and music-making is what drives us, but I could sure find good use of a spare million. For me, the musicians I look up to are Muddy Waters, Steve Cropper, Bon Scott, Otis Redding, Jeff Beck, Buddy Guy and a million others I'm sure you can guess. | The Widowbirds han estado juntos desde hace casi ya cuatro años, y en el que nuestro anterior trabajo data del 2011. Todos nuestros músicos han estado tocando en diferentes proyectos durante años |
| | |
| --- | --- |
| 7. What do you think about the Australian music scene where you were born, Any good song, record, band you lately like? | ¿Qué pensáis sobre la escena musical actual en Australia actualmente, y si hay algún disco, banda o canción que te haya gustado recientemente? |
| The scene in Australia for rock bands is not very healthy. Lots of music venues are closing and radio ignores you unless you play hipster rubbish. We are inviting all of Spain to move to Australia and save Rock'n'Roll! But I do like Tame Impala. | La escena musical para bandas australianas en nuestra país no está pasando por el mejor momento. Muchísimas salas están cerrando, y la gran mayoría de emisoras de radio te ignora a no ser que toques como las bandas actuales hipster. ¡Os invitamos a todos los españoles a que vengáis a Australia a salvar el Rock'n'Roll! Tame Impala sí que me gusta. |
| | |
| --- | --- |
| 8. Do you know Spanish Rock & Roll music, artist, etc? | ¿Conoces algún músico o artista español? |
| Our Spanish tour manager Nestor Varela (who is a great recording and mixing engineer) helped us discover Berri Txarrack, we think they're super. Looking forward to hearing more when we get to Spain. | Nuestro jefe de giras en España Néstor Valera (gran técnico e ingeniero de mezclas) nos ayudó a descrubrir a la banda Berri Txarrack, pensamos que son increíbles. Trataremos de escuchar más música española cuando estemos por allá. |
| 9. How is The Widowbirds on the stage? Are you preparing new stuff for your next album? | ¿Cómo son The Widowbirds encima de un escenario? ¿Estás preparando nuevo material para tu próximo disco? |
| We don't stare out our feet and we don't want to win any awards for most depressed looking musicians! We are always writing and storing ideas for the next album. Have guitar, will travel. | No mantenemos nuestros pies quietos en ningún momento, ¡no quremos ganar ningún premio al mejor grupo con pinta depresiva!. Siempre estamos escribiendo nuevas historias y letras para los próximos trabajos. Con una guitarra todo surge. |
| 10. Would you mind send Dirty Rock readers a message and encourage them to see you in your upcoming shows? | ¿Os gustaría enviarle un mensaje a los lectores de Dirty Rock para animarlos a ver uno de vuestros conciertos? |
| To all the Dirty Rock readers out there, thank you for taking the time out to read my nonsense. We especially cannot wait to arrive and perform in Spain. Our last tour over there restored our faith in Rock music as a living and relevant art form, but most importantly for us, the welcome we received was truly special and we are promising to return all the love that we have been given by our wonderful Spanish supporters. | A todos los lectores de Dirty Rock, gracias por tomaros vuestro tiempo por esta lectura de palabrería. Estamos deseosos de aterrizar y tocar ya en España. Nuestra última gira restauró nuestra fe en el Rock como una forma de vida, pero lo más importante |