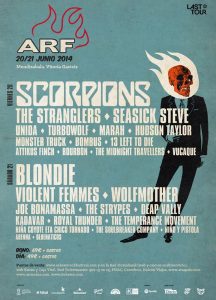 Azkena Rock Festival 2014 cierra su cartel con las incorporaciones de los británicos The Stranglers, los norteamericanos Marah y los británicos The Temperance Movement en sustitución de los norteamericanos J Roddy Walston and the Business en la decimotercera edición del festival celebrado en Vitoria los días 20 y 21 de junio, y la incorporación de un nuevo escenario, el tercero con la actucación de ocho artistas y bandas nacionales como Attikus Finch (Pamplona), Bourbon (Cádiz), The Midnight Travellers (Barcelona) y Vucaque (Madrid) el viernes 20 de junio y The Soulbreaker Company (Vitoria-Gasteiz), Niño y Pistola (Vigo), Arenna (Vitoria-Gasteiz) y Bluenáticos (Alicante) el sábado 21.
El Azkena Rock Festival 2014 cierra su cartel con tres bandas de distinto pelaje como The Stranglers que cumplen este año su 40 aniversario de su fundación, pioneros del Punk británico junto a The Clash o Sex Pistols, con diecisiete álbumes en el mercado siempre supieron acloparse al momento cuando comenzaron en 1974 con el Garaje Rock, Punk, New Wave y Pop de sintetizadores, influenciados por la Velvet Underground, Television, los Kinks, Frank Zappa, The Rolling Stones o The Doors.
Los londinenses The Stranglers liderados por el cantante y bajista Hugh Cornwall, el bajista y vocalista J. J. Burnell, el batería Jet Black y una de las piezas claves del grupo, el teclista Dave Greenfield, formaron un conjunto al que denominaron en un primer momento The Guildford Stranglers.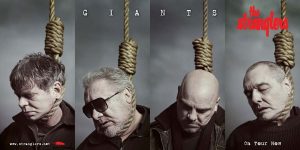 Otra de las nuevas incorporaciones al festival es Marah, el grupo norteamericano formado por los hermanos David Bielanko y Christine Smith que presentan su último trabajo publicado recientemente en el mes de febrero "Marah Presents Mountain Minstrelsy of Pennsylvania", banda de Alt Country Rock que comenzó su andadura a comienzos de los 90.
Escucha a Marah en "Mountain Minstrelsy of Pennsylvania" (2014).

Octavo trabajo de Marah con "Mountain Minstrelsy of Pennsylvania", un nuevo viaje al Folk y Country más profundo de su país, no olvidando nunca su baza roquera de una de las bandas más importantes de Estados Unidos encima de un escenario.
Escucha el álbum debut de  The Temperance Movement (2013).
La última banda confirmada para el Azkena Rock Festival 2014 son el quinteto británico de Blues Rock sureño The Temperance Movement que debutaba el año pasado con un álbum homónico siguiendo los sacramentos de Little Feat y The Black Crowes, de una banda compuesta por Phil Campbell (voz), Paul Sayer (voz), Luke Potashnick (guitarra), Nick Fyffe (bajo) y Damon Wilson (batería).