The Stranglers uno de los grupos pioneros del Punk británico  celebran el 40 aniversario de su fundación con una gira que recalará en España el próximo mes de abril y de paso presentar su último gran trabajo "Giants" publicado en el 2012.
The Stranglers con diecisiete álbumes en el mercado siempre supieron acloparse al momento cuando comenzaron en 1974 con el Garaje Rock, Punk, New Wave y Pop de sintetizadores, influenciados claramente por la Velvet Underground, Television, los Kinks, Frank Zappa, The Rolling Stones o The Doors por unos jovenes londinenses liderados por el cantante y bajista Hugh Cornwall, el bajista y vocalista J. J. Burnell, el batería Jet Black y una de las piezas claves del grupo, el teclista Dave Greenfield, formaron un conjunto al que denominaron en un primer momento The Guildford Stranglers.
Escucha "Giants" el último disco publicado por The Stranglers.
The Stranglers tras telonear en 1976 a Patti Smith y a The Ramones, un año antes de que el Punk estallase definitivamente en Gran Bretaña con grupos que referentes como The Clash o Sex Pistols.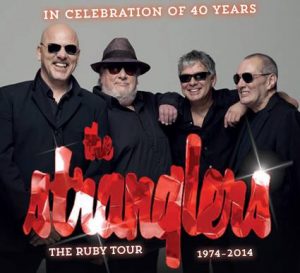 Fechas de la gira 40 aniversario de The Stranglers, The Tanks teloneros:
1 de abril en Barcelona, Sala Barts (Barcelona Guitar Festival)
3 de abril en Madrid, Sala But
4 de abril en Gijón, Sala Acapulco
5 de abril en Intxaurrondo