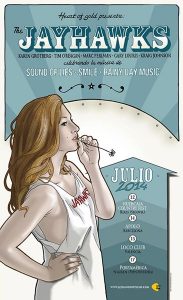 The Jayhawks regresan a España en una nueva gira a partir del próximo mes de julio con varias fechas confirmadas para repasar tres discos significativos dentro de su discografía como fueron "Sound of Lies" (1997), "Smile" (2000) y "Rainy Day Music" (2003) los cuales serán reeditados por la banda norteamericana de Country Rock Folk compuesta en la actualidad por Gary Louris, Tim O'Reagan, Marc Perlman, Karen Grotberg y Kraig Johnson.
The Jayhawks publicaron su último disco de estudio en el 2011 con "Mockingbird Time", de esta formación que asoma sus garras a mediados de los años ochenta y publicando sus cuatro primeros discos con un éxito más que notable con su líder Mark Olson, que dejaría la banda en 1995 con un disco "Tomorrow the green grass", el último gran disco de la banda y uno de los mejores de la década de los años 90 con canciones como "Blue", "Bad Time", "I'd Run Away", "Ann Jane" o "Pray For Me" entre otras.
Mark Olson como Gary Louris las dos piezas angulares de The Jayhawks formaron parte de otros grandes proyectos como Golden Smog por parte de Olson, una superbanda con Marc Perlman, Jeff Tweedy de Wilco, Dave Pirner y Dan Murphy de Soul Asylum, Kraig Johnson de Run Westy Run y Chris Mars de The Replacements y Mark Olson con los The Original Harmony Ridge Creekdippers.
Fechas de la gira española de The Jayhawks 2014:
12 Julio en Riaza, Segovia, Huercasa Country Festival
14 Julio en Barcelona, Apolo
15 Julio en Valencia, Loco Club
17 Julio en Nigrán, Pontevedra, Portamérica