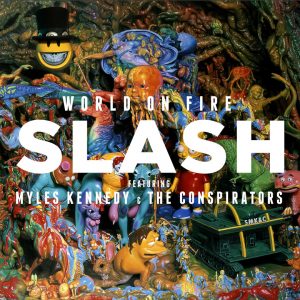 Slash publica su tercer disco en solitario «World on Fire» el próximo 15 de septiembre, álbum compuesto de diecisiete temas junto a su banda , Myles Kennedy and The Conspirators y estará acompañado de una gira europea que comienza en noviembre 2014.
Segundo disco de Slash junto a la formación de Myles Kennedy con su anterior «Apocalyptic Love» (2012) y su debut en solitario con «Slash» en el 2010.
«World on Fire» de Slash cuenta con la producción de Michael «Elvis» Baskette (Alter Bridge, Falling in Reverve, Incubus).
Escucha «World o Fire», primer adelanto del nuevo disco de Slash.
Listados de canciones del nuevo disco de Slash «World on Fire».
1. World On Fire
2. Shadow Life
3. Automatic Overdrive
4. Wicked Stone
5. 30 Years To Life
6. Bent To Fly
7. Stone Blind
8. Too Far Gone
9. Beneath The Savage Sun
10. Withered Delilah
11. Battleground
12. Dirty Girl
13. Iris Of The Storm
14. Avalon
15. The Dissident
16. Safari Inn
17. The Unholy
Gira europea de Slash en noviembre y diciembre de 2014.
11/10 – Dublin, Irlanda @ O2 Arena
11/12 – Paris, Francia @ Le Zenith
11/15 – Basel, Suiza @ St. Jakobshalle
11/16 – Turin, Italia @ Palaolimpico
11/17 – Florence, Italia @ Mandela Forum
11/19 – Vienna, Austria @ Stadthalle
11/20 – Krakow, Polonia @ Krakow Arena
11/22 – Munich, Alemania @ Zenith
11/23 – Cologne, Alemania @ Palladium
11/24 – Amsterdam, Holanda @ Heineken Music Hall
11/26 – Brussels, Bélgica @ Forest Club
11/28 – Manchester, Inglaterra @ Phones 4U Arena
11/29 – Leeds, Inglaterra @ Leeds Arena
12/01 – Birmingham, Inglaterra @ LG Arena
12/02 – London, Inglaterra @ Wembley Arena
12/04 – Glasgow, Escocia @ Hydro Arena