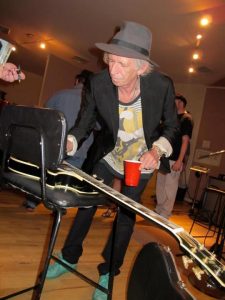 Keith Richards junto a otros grandes músicos, aparecen en un disco y DVD tributo a Les Paul, guitarrista y pionero en el desarrollo de las guitarras de cuerpo macizo con el diseño de los modelos Gibson Les Paul, que adoptaron su nombre, y en la grabación multipista.
El disco y documental se llama «Thank You Les», en el que Lou Pallo miembro de Les Paul Trio estará acompañado de grandes estrellas. A la venta el próximo 11 de septiembre.
En «Thank You Les», disco tributo y documental a Les Paul, además de Keith Richards, aparecen Billy Gibbons (ZZ Top), Steve Miller, Slash, Blondie Chaplin (Rolling Stones), Nokie Edwards (The Ventures), José Feliciano, Eddie Brigati, Jr. (The Young Rascals), Johnny A. o Bob Leive entre otros.
Keith Richards interpreta el clásico «It's Been A Long, Long Time», la canción más popular en las emisoras de radio de Estados Unidos al finalizar la Segunda Guerra Mundial con Harry James y su orquesta interpretándola. Unos meses más tarde el crooner y genio Bing Crosby realizaba otra versión junto a The Les Paul Trio llegando igualmente al número uno de las listas.
Escucha a Bing Crosby a la voz y Les Paul a la guitarra en «It's Been a Long, Long Time» número uno el 8 de diciembre de 1945.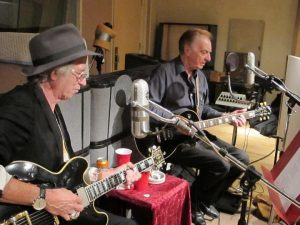 El disco cuenta con 21 temas y saldrá en formato cd y DVD, en el que se incluirá un documental sobre la grabación del disco «Thank You Les» y sobre la trayectoria de Les Paul.
Keith Richards responde a la pregunta de que si en su época se conocía a Les Paul y sus guitarras.
El lanzamiento de este disco representa casi una carta de amor para el ícono de la guitarar e innovador en grabación por artistas que se vieron influenciados e inspirados por su arte e innovación. Los covers musicales van desde el pop al jazz, pasando por el Country, rock y Blues.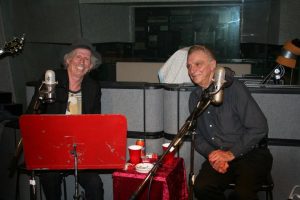 Los artistas invitados incluyen a Keith Richards, Billy F Gibbons, Steve Miller (quien tambien escribió las notas del disco), Jose Feliciano, Slash, Johnny A, Bucky Pizzarelli, Arlen Roth, Nokie Edwards (The Ventures), Frank Vignola, Bob Leive, Tommy Doyle and Jon Paris, y también cantantes como Eddie Brigati, Jr. (The Young Rascals) Blondie Chaplin (Rolling Stones), Nicki Parrott (Les Paul Trio), Lexie Roth, Melinda Doolittle (finalista de "American Idol" season six) y miembros de "The Les Paul Trio".
Escucha el disco «Thank you Les» por Lou Pallo y amigos
Keith Richards junto a Les Paul en uno de sus conciertos.
Les Paul y su viejo amigo y guitarrista rítmico, proveniente de New Jersey, Lou Pallo, quien merece grandes créditos por haber ayudado a Les Paul a revitalizar su carrera como guitarrista en actuaciones en vivo luego de haberse conocido en 1963, para que poco tiempo despues comenzaran a tocar juntos.
Fue Lou Pallo quien estuvo en el escenario con Les durante su extensa semana de presentaciones en la ciudad de Nueva York, comenzando en 1984, primero en Fat Tuesday's en Greenwich Village.
Luego en Iridium situado en Broadway, el cual se convirtio en el ticket mas deseado no solo para miles de fans, sino tambien para cualquier músico de la ciudad que quisiera sacarse el sombrero y expresar su admiración en "The House that Les Paul Built.".
El track list de «Thank You Les», es el siguiente:
1.Avalon – FRANK VIGNOLA
2.Tell Me What's the Reason – STEVE MILLER
3.Caravan – NOKIE EDWARDS
4.Tennessee Waltz – NICKI PARROTT
5.September Song – BILLY F GIBBONS
6.It's Been a Long, Long Time – KEITH RICHARDS
7.I'm Confessin' – BUCKY PIZZARRELLI / EDDIE BRIGATI
8.Mr. Sandman – ARLEN ROTH
9.Bésame Mucho – JOSÉ FELICIANO
10.Brazil – FRANK VIGNOLA
11.Vaya Con Dios – LEXIE ROTH / ARLEN ROTH
12.Deep in the Blues – SLASH
13.Nature Boy – STEVE MILLER
14.Memories of You – TOMMY DOYLE
15.Smile – BLONDIE CHAPLIN
16.Carioca – FRANK VIGNOLA
17.Just One More Chance – BUCKY PIZZARRELLI
18.St. Louis Blues – JON PARIS / BOB LEIVE
19.Sweet Georgia Brown – JOHNNY A
20.Out of Nowhere – NOKIE EDWARDS
21.Over the Rainbow – MELINDA DOOLITTLE
Se prevee que el día ántes de salir el disco, el 10 de septiembre, en el Iridium Jazz Club se celebre la presentación del disco con muchísimos de los músicos que realizaron el disco junto a Lou Pallo.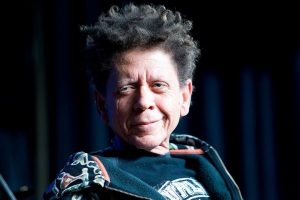 Keith Richards at «Thank You Les» album and DVD documentary with an amazing array of all-star musicians join guitarist Lou Pallo in paying tribute to the legendary Les Paul with the September 11 release of a unique CD/DVD titled «Thank You Les».
Beside Keith Richards at «Thank You Les» Les Paul CD/DVD Tribute are Billy Gibbons (ZZ Top), Steve Miller, Slash, Blondie Chaplin (Rolling Stones), Nokie Edwards (The Ventures), José Feliciano, Eddie Brigati, Jr. (The Young Rascals), Johnny A. or Bob Leive.