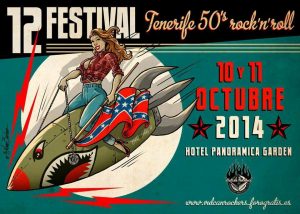 Uno de los festivales más longevos de Rockabilly y Rock and Roll clásico en España, se celebra en Tenerife y está organizado por los Vulcan Rockers Tenerife es el 12 Tenerife 50's Rock'n'Roll.
Los organizadores han confirmado fechas para su decimosegunda edición que será entre el 10 y 11 de octubre en el Hotel Panoramica Garden de los Realejos y en que se confirman los primeros nombres del festival con los almerienses Pike Cavalero que presenta su primer disco en solitario «Torro» editado en febrero de 2014 y The Sun Rockets, trío de Rockabilly formado por Diego Cruz, Chipo Martini y Pepe Lee, que cuentan con varios singles y su último larga duración titulado «Dirty Night Blues» (2010).
Pike Cavalero en la adaptación del clásico de George Jones «The Race is On».
Escucha «Torro», el nuevo disco de Pike Cavalero.
The Sun Rockets interpretando «Desert Wind».
Cartel realizado por Nano Barbero de Rockin' Shop.
Próximamente más noticias del 12 Tenerife 50's Rock'n'Roll.