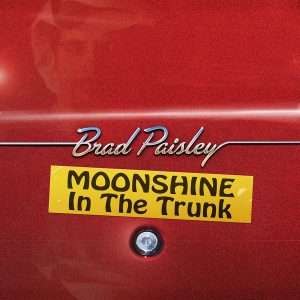 Brad Paisley publica «Moonshine in the Trunk», décimo álbum de estudio de quince canciones en el que colaboran Emmylou Harris, Gordon Mote, Bryan Sutton y Carrie Underwood tras su anterior y controvertido disco, por experimental, «Wheelhouse» (2013) de este magnífico guitarrista y compositor de Country Pop Rock que con apenas 41 años ha conseguido tres premios Grammy, multitud de premios de la Country Academy y Associaton y llegado a vender más de doce millones de discos solamente en Estados Unidos.
Brad Paisley un auténtico portento a la guitarra con su estilo Twang, mezclando otros estilos como el Rock y el Jazz a su técnica tan caractertístico de genios como Danny Gatton, Albert Lee, James Burton, Roy Nichols Brent Mason o Redd Volkaertt, consistiendo en tocar de forma simultanea con los dedos y la púa, permitiendo tocar un rango más amplio de cuerdas de forma rápida cuando con la púa resultaría más lento y complicado. Normalmente la púa se coge con los dedos habituales de la mano derecha, mientras que los dedos restantes son utilizados para hacer finger picking.
Escucha «Moonshine in the Trunk», nuevo disco de Brad Paisley.