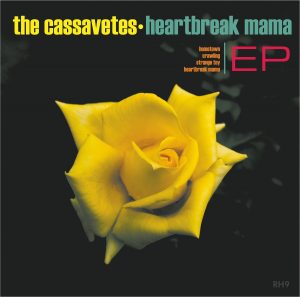 The Cassavetes publicaron en el mes de julio de 2013, "Heartbreak Mama" un EP de cuatro canciones, propósito del autor canario Rubén Hernández (Diplomáticos, José Mesa y los Presentes, Venus en Surf y Moral Femenina) que junto a Carlos Odeh, voz y guitarra, Jesús Pastor Gil Medina (Los Passos) al bajo y Fran Frechín (Los Passos) a la batería manejan con buena mano los resortes del Rock con garra, descargando toda esa fuerza en cuatro canciones inflamables de primera, con dos guitarras peleando a golpe de Riff y dos ásperas gargantas.
"Heartbreak Mama" de The Cassavetes está dedicado a la madre del músico y artista Rubén Hernández, EP que se presentó el pasado mes de julio de 2013 en Tenerife, canciones que se pasean por las estrellas y regresan con rabia por donde menos las esperas, la impresión que deja su escucha es de satisfacción.
Escucha "Heartbreak Mama", nuevo EP de The Cassavetes.