The Damned se pasaron por Barcelona el pasado 17 de abril  en la sala Razzmatazz2, una de las bandas responsables en iniciar en Inglaterra el Punk Rock junto a The Clash o Sex Pistols estuvieron en la ciudad para celebrar su 40 aniversario y en el que Motorzombies abrieron su concierto una de las bandas referentes en España del Psychobilly y «Locobilly» (Punkrockado+handrockero).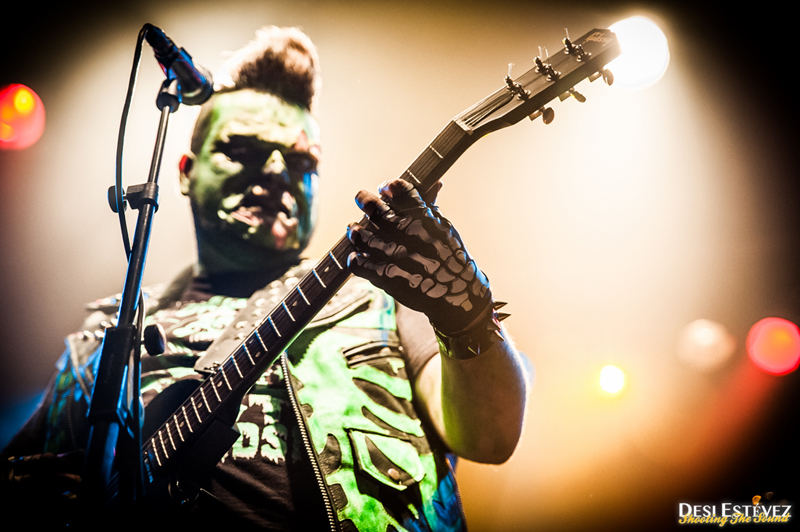 The Damned son historia viva del Punk Rock, ellos fueron los primeros en poner un single y un disco en las listas de éxitos en su país Inglaterra a mediados de los años setenta, también fueron los primeros en irse de gira a Estados Unidos. Todas las críticas que escuche en el concierto de Barcelona fueron buenas, por lo que puedo decir que cumplieron con el objetivo Dave Vanian a las voces, Captain Sensible a las guitarras, Monty Oxy Moron a los teclados, Stu West al bajo y Pinch Von Pinching a la batería.
The Damned se encontraban en el recinto barcelonés repleto de un público de diferente pelaje, no en vano antes actuaron Motorzombis presentando segundo disco, "El Regreso de Motorzombis", y en la que su actuación condensó esa mezcla entre Horror-Punk, Rockabilly y el Hard Rock más ochentero da lugar a un Psychobilly contundente y ecléctico, repleto de referencias de regusto "spanish", y a clásicos del "Fantaterror" español y mexicano agitado filmes de horror de culto y series B.
Mucho ritmo y una actitud festiva y comunicativa los Motorzombis en Barcelona, los cuatro "monstruos", dieron un buen repaso a un montón de historias y criaturas infernales que pueblan las pesadillas de la mayoría de los mortales.
The Damned y su concierto en Barcelona se caracterizó por la híper-velocidad de sus canciones y la muy característica voz e imagen de Dave Vanian, un cuasi crooner vampiresco, en el que el concierto transcurrió en un estado de euforia latente, sin apenas respiro entre canción y canción destacando sobre todo «Street Of Dreams», «Love Song», «New Rose Hotel» y «Smash It Up».