Joanne Shaw Taylor presenta en nuestros escenarios su último trabajo en estudio "The Dirty Thruth" grabado a finales del 2014. Cuarto en su carrera y continuidad de una trayectoria discográfica que comenzó en 2008 con "White Sugar" y se ha mantenido hasta este último trabajo con "Diamonds in the Dirt", "Almost Always Never" y la grabación en directo "Songs From The Road".
Desde sus prematuros inicios en el mundo de la música gracias a Dave Stewart de la formación Eurythmics que descubrió a esta genial cantante y guitarrista invitándola a tocar con su grupo DUP en 2002. Sus influencias musicales maman de las ubres del blues rock determinado por artistas como Steve Ray Vaughan, Jimi Hendrix o Albert Collins, de esta forma gesta una adolescencia experimentada en la técnica de las seis cuerdas. Las críticas no han podido ser más relevantes siendo elegida en 2010 y 2011 como mejor vocalista de blues en los British Blues Awards.
Joanne Shaw Taylor viene siendo en la actualidad una de las revelaciones femeninas de la escena del blues con todo el reconocimiento del mismísimo Joe Bonamassa. Su estilo plasma un blues con inevitables guiños al rock que refleja todo su esplendor subida a un escenario. De esta forma tenemos la oportunidad de ver a "la nueva cara del blues"… Joanne Shaw Taylor.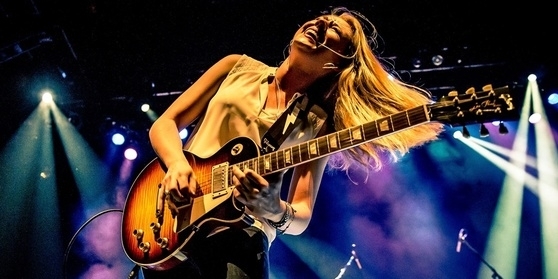 JOANNE SHAW TAYLOR ESPAÑA 2015
18 SEPTIEMBRE BARCELONA SALA BIKINI
19 SEPTIEMBRE MADRID TEATRO BARCELO
Escucha el último disco de Joanne Shaw Taylor "The Dirty Thruth"