Slim Jim Phantom (STRAY CATS) volvia a dejarse caer por Valencia capital, en este caso en el 16 Toneladas en una noche de rock and roll clásico y rockabilly con los temas de Stray Cats y clásicos del género,secundado por una banda nacional de lujo, en este caso Miguel Angel Escorcia (Cat Club) y Migue (Los Renegados), dos grandes amigos y dos grandes músicos de esta santa ciudad.
El repertorio empezaba con Rumble In Brighton de Stray Cats cantada por Slim Jim, seguido del Baby Blue Eyes de Johnny Burnette también cantada por Slim Jim, luego Migue cantaria Race with the devil (Gene Vincent), Pretty Pretty Baby (Gene Vincent), Summertime Blues de Eddie Cochran, Oh Boy (Buddy Holly), Ready Teddy (Little Richard), It's all over now de los Valentinos (cantando Slim Jim), Nervous Breakdown (Eddie Cochran), Runaway Boys (Stray Cats), Rock This Town (Stray Cats), Jeannie Jeannie Jeannie (Eddie Cochran), Rip It Up (Little Richard) ,Train Kept A Rollin' (Tiny Bradshaw), Tear It up de Johnny Burnette, Come On Everybody de Eddie Cochran ,…una gran noche,con una banda de lujo.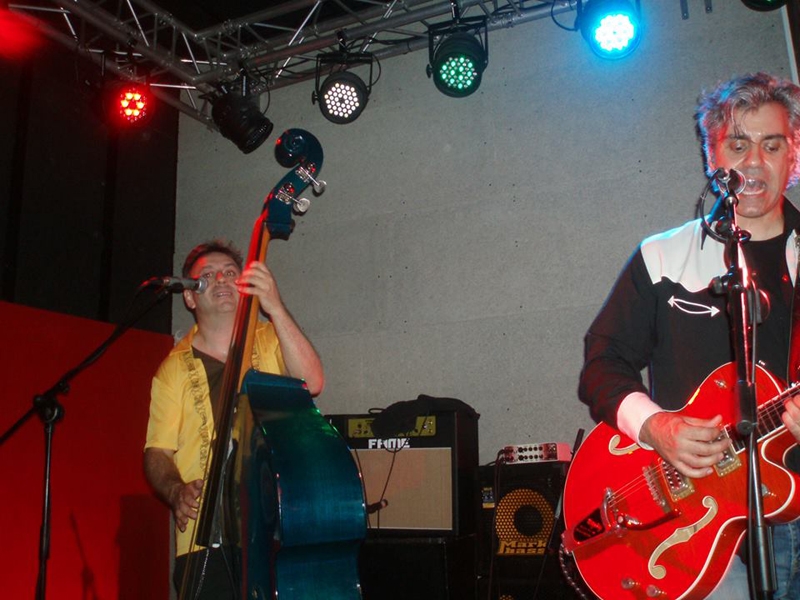 Miguel Angel eres el mejor, cantando y tocando, un señor profesional, Migue un tanto de lo mismo de verdad, y por supuesto el gran Slim Jim, que sin ser el mejor cantante ni de lejos,e s el mejor bateria de rockabilly de todos los tiempos.
Texto y fotos de Alex Ruiz (Boppin Cat).