El sábado 14 de noviembre el programa de radio BOP STREET emitido en el Regreso Radio de Valencia, celebraba 22 años de emisión y para esta ocasión su presentador Alex Ruiz traía desde Barcelona a una formación convertida en sus 20 años de existencia en un estandarte del psychobilly nacional : Hellbilly Club. La formación nació en 1995 y está formada principalmente por los hermanos Santi Lluch (guitarra,voz) y David Lluch (contrabajo),una formación que además tienen proyectos en solitario como Atomic Leopards,han formado parte de Los Rebeldes y Gatos Locos,y han tocado con leyendas del género psychobilly como Tim Polecat (The Polecats) o Paul Roman (The Quakes), unidos a Peter,ex bateria de Los Brioles y ahora en proyectos como Anita O'Night & The Mercury Trio.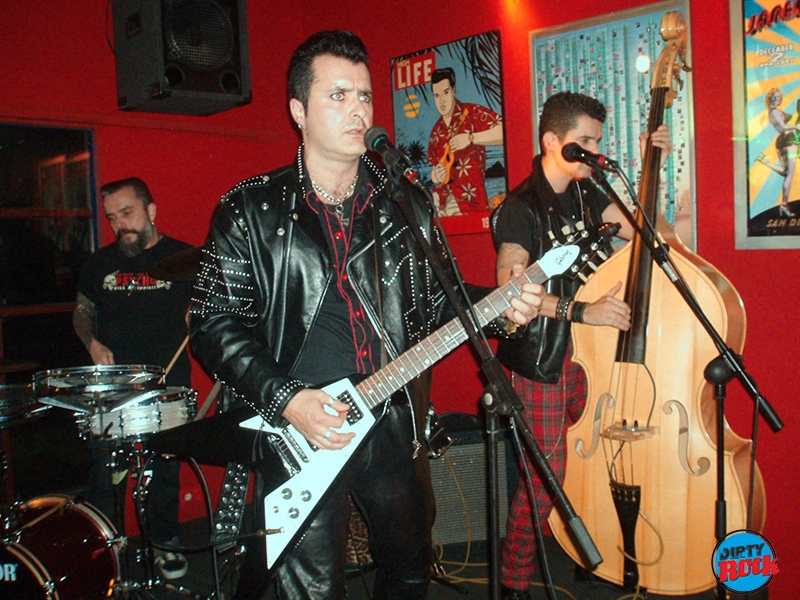 El trio recalaba en Valencia para celebrar este aniversario y lo hacian en la sala valenciana dirigida por Juanjo y Reme. La formación editó su séptimo lp, Subhumanos en el 2014, y venían con un gran repertorio de temas de todos sus discos, incluso recuperando canciones en el repertorio de anteriores lp's como Hypnotic Ultrabizarre Circus,Hell-O, Black Leather Danger o Shady Customers.
Escucha "Subhumanos", último trabajo de Hellbilly Club.
El directo de Hellbilly Club abrió con Rumble de Link Wray,y con un pequeño contratiempo por cambio de cuerda seguia con I know who's bad, I don't wanna be like you, Zombie Faces, People are strange de los Doors, Love Cats de The Cure, Cowboy from hell, MMXX, 50 Guns And 100 Men que les compuso Paul Roman de los Quakes, Psychophones, Night Rider, el tremendo Me caes mal, Blue Moon Baby de Dave "Diddle" Day, Pink & Black de Sonny Fisher,l a estupenda Sick Boys de Social Distortion coreada por todos, y Traitors Go To Hell que recuperaban y con el cual cerraban show.
Fotos y texto por Alex Ruiz.