The Dictators volvieron por cuarta vez consecutiva a Valencia (y sin contar las que vinieron antes con Andy Sernoff, el compositor de muchos de sus temas y causante de que durante un tiempo se llamasen Manitoba) y en este caso en el escenario del 16 Toneladas.
Actualmente, The Dictators está compuesto por tres de los miembros originales de 1973, año en el que se fundó el grupo seminal del punk rock de la ciudad de Nueva York: Handsome Dick Manitoba (voces), Ross The Boss (guitarra) y H.P. Thunderbolt ( bateria) junto con Daniel Rey (guitarra), productor de los Ramones y de Ronnie Spector, y Dean "The Dream" Rispler al bajo.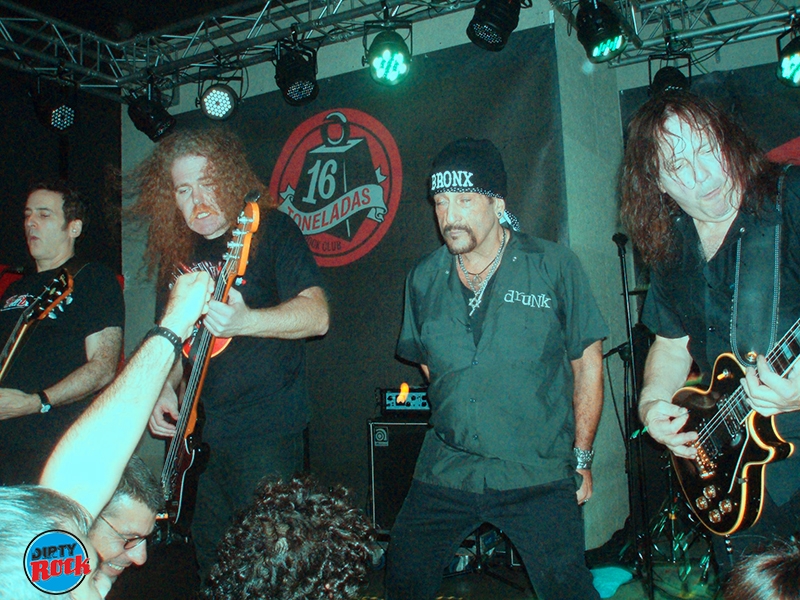 La formación neoyorkina llenaba el 16 Toneladas e hizo un show con su clásico repertorio,tocando temas de sus discos,editados a lo largo de 40 años, como "Faster And Louder", "Who Will Save Rock And Roll", "Baby Let's Twist","New York New York", "Stay With Me","Two Tube Man"…etc.  La gente entregada, llenazo en el 16 Toneladas y gran fiesta organizada por la promotora 77 Goes Live de Danielo, la promotora que este mes de noviembre celebra su primer aniversario.
Es increible que The Dictators siendo una formación que actúa de continuo en nuestro país, siga llenando las salas con un público completamente entregado que corea himnos como "Stay With Me" o "Who Will Save Rock And Roll".
Textos y fotos de Alex Ruiz.