Segundo aniversario de la sala valenciana 16 TONELADAS con un lleno para celebrar con sus dueños Pepito y Poldo estos 2 años dedicados a la música, conciertos en vivo y sesiones, imparables en este tiempo, y como tal lo celebraba con la excelente actuación de los barceloneses The Excitements, una de las grandes bandas de soul nacionales con la voz de Koko Jean Davis trajo a Valencia su nuevo y reciente trabajo bajo el titulo de Breaking The Rule.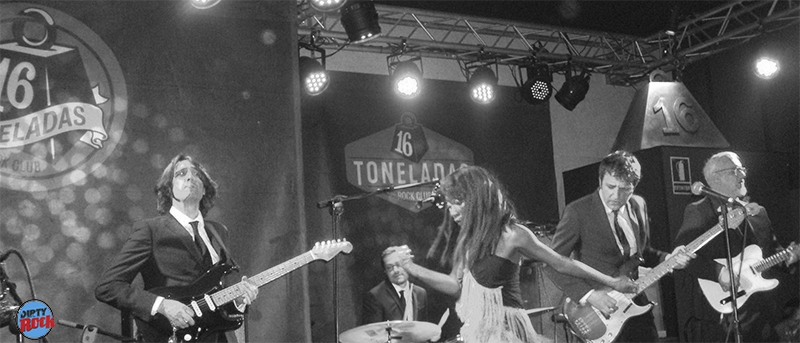 Tercera referencia en Penniman Records por parte de The Excitements con la explosiva Koko Jean al frente, una de las mejores voces souleras del momento, repasaron y transmitieron en su repertorio su potente Rhythm & Blues donde repasaron canciones de sus anteriores discos con temas como Chicken Pickin', Back To Memphis, Hold On Together, Take It Together, Did I let you down, Breaking the rule, Mojo Train, Wild dog, Everything's better, I've bet and lost, That's what you got, Four Loves,Fire, Let's kiss and make up o su versión espectacular de Jim Dandy de Lavern Baker.
Un concierto dónde además de su voz, Koko nos hizo vibrar (al menos en el rato que estuve) con sus bailes frenéticos, unidos a una banda que junto a los también catalanes The Pepper Pots son actualmente los referentes del género soul del país.
Escucha el nuevo disco de The Excitements Breaking The Rule:
Fechas de la gira española de The Excitements presentando su nuevo disco Breaking The Rule:
1 de abril en Valencia ,16 Toneladas
2 de abril en Alicante, Las Cigarreras
3 de abril en El Prat de Llobregat, Festival Carxofa i Jazz
9 de abril en Girona, Strenes
15 de abril en Soria, Avalon
23 de abril en Zaragoza, Sala López
14 de mayo en Madrid, Sala Arena
20 de mayo en Figeac, Correspondaces
27 de mayo enFerrol, Teatro Jofre
11 de junio en Barcelona, Sala Apolo
12 de junio en Kervignac, Festival Les Pieds Dans la Vase
18 de junio en Thuin, Fete de la Musique
30 de junio en Lärz, Fusion Festival
1 de julio en Tolosa, TolosandBlues
2 de julio en St. Stephan, Hangar Rocking
19 de julio en Edimburgo, Edimburgh Jazz & Blues Festival
20 de julio en Edimburgo, Edimburgh Jazz & Blues Festival
Texto y fotos por Alex Ruiz.