En la escena del rnb actual están brillando con fuerza voces como la de Nikki Hill o Sister Cookie, la cantante africana establecida en Inglaterra debutó como Miss Cookie para hacer una retirada de un tiempo por maternidad y volver a los escenarios de prestigiosos festivales. Por aquí Sister Cookie se ha dejado caer por el Screamin' o el Ubangi Stomp, y ha grabado junto a Soulful Orchestra o MFC Chicken. Este mes de abril volvió Sister Cookie actuando el viernes 22 de abril en 16 toneladas en el segundo aniversario de la Watusi Dance Party con un gran show de rhythm and blues y soul.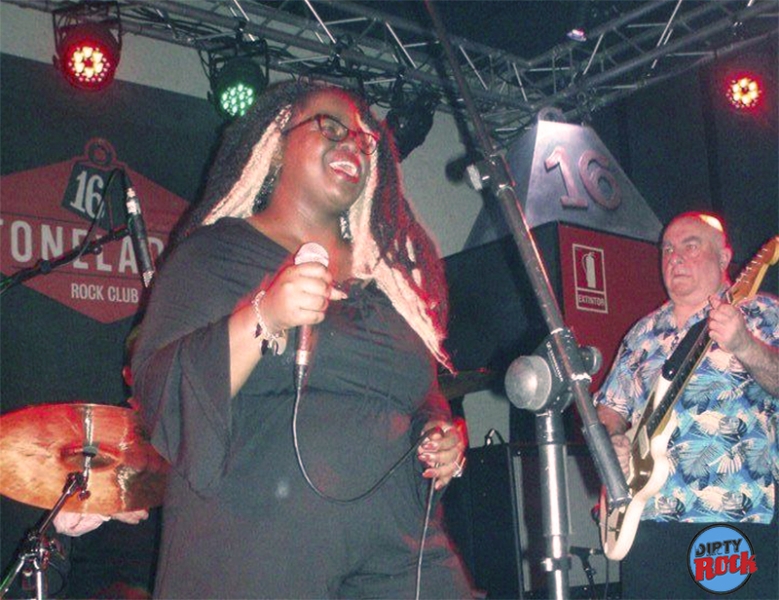 Tremenda voz la de la vocalista Sister Cookie con buenas versiones destacando el «Chills And Fever» de Ronnie Love, «Fever»de Little Willie John, «What'd I say» de Ray Charles, «Shakin' all over» de Johnny Kidd And The Pirates o el «Where's my money», secundada por The intelligents, con nombres como Alex Bland (The big six, laura b & the moonlighters) al saxo o Rob Tyler (Restless) habituales de la escena rnb y rockabilly británica.
Además de cantar Sister Cookie, estuvo pinchando unos temas en 16 Toneladas junto a los habituales David Nebot y Varo.
El sello discográfico Folc Rds publicó el año pasado un nuevo ep de Sister Cokkie con dos temas junto con MFC Chicken. Ahora ella está preparando su nuevo LP, grabado con su banda londinense.
Fotos y texto por Alex Ruiz.