The Last Vegas publicaron el pasado mes de marzo nuevo disco «Eat Me», séptimo álbum del quinteto de sucio de rock and roll y glam setentero, quienes también anuncia gira española en noviembre y diciembre, disco producido por Chris Laney (Hellacopters, Turbonegro), tras su anterior «Sweet Salvation» publicado hace dos años.
El monstruo y la rabia que llevan dentro The Last Vegas, llamó la atención de Nikki Sixx de los Mötley Crüe cuando, en el 2008 en la mítica sala de Los Angeles Whisky A Go-Go, ganaron el certamen de bandas emergentes para la tienda de instrumentos musicales Guitar Center. Automáticamente pasaron a ser los teloneros de los Mötley y de ahí en adelante compartieron tablas, por citar algunas bandas, con AC/DC, Buckcherry, Papa Roach o Guns & Roses, además de haber girado por diecisiete países diferentes esta banda con casi quince años de trayectoria musical.
Este nuevo disco de The Last Vegas «Eat Me», bebe y salda deudas con sonidos claramente Backyard Babies y The Hellacopters. Once canciones que transcurren a todo trapo, como una cita y cena rápida, buena lencería y polvo rápido, ¿me come? (Eat Me).
Escucha «Eat Me» (2016), nuevo disco de The Last Vegas.
The Last Vegas son de Chicago, Chad Cherry es su líder y voz de la banda, que ahora vive en Los Angeles, Adam Arling, guitarra, Johnny Wator, guitarra, Nathan Arling, batería, Bryan Wilkinson a la guitarra y Danny Smash al bajo, disparan a matar con su sucio espectáculo de Sleazy, rock and roll y glam setentero.
Desde el South Side de Chicago, una de las cunas del blues más eléctrico, estos Loose Lips Boys se presentan de nuevo en España para subir el volumen de nuestras salas y escapar de ellas con los oídos completamente calcinados con sus relámpagos endemoniados.
Fechas de la gira española de The Last Vegas 2016:
29 de noviembre en Barcelona, Rocksound
30 de noviembre en Madrid, Boite Live. 
1 de diciembre en Zaragoza, Sala King Kong
2 de diciembre en Vitoria Gasteiz, HellDorado
3 de diciembre en Bilbao, Sala Santana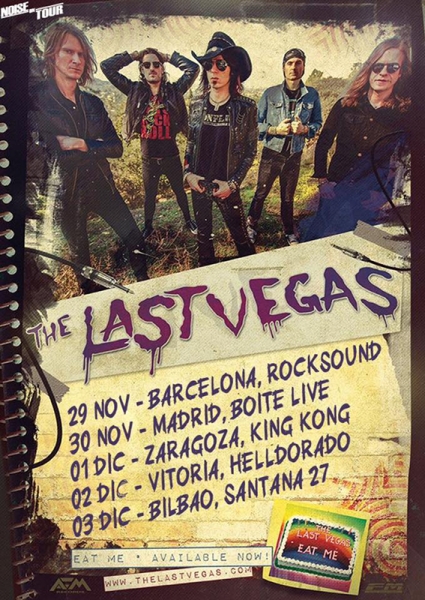 Listado de canciones del nuevo disco de The Last Vegas
1. Bloodthirsty
2. Here We Go Again
3. Universe & You
4. Hot Fudge
5. Along For The Ride
6. Voodoo Woman
7. Love's Got Nothing On Me
8. Hard To Get Over (You're So)
9. To Be Treated
10. Anything It Takes
11. From Hell