The Who y Roger Waters que cargó contra Israel y Donald Trump fueron los encargados de participar en la tercera jornada del festival Desert Trip, tras las actuaciones de Rolling Stones, Bob Dylan, Neil Young y Paul McCartney este fin de semana en un repleto Empire Polo Field, mismo lugar donde se realiza el festival Coachella que comenzó el pasado mes de abril.
La noche la abrió The Who con un soberbio repertorio de canciones en el que Roger Daltrey y Pete Townshend se compararon a sí mismos como los Adele, Lady Gaga, Rihanna orBieber en 1967 cuando se disponían a interpretar «I Can See for Miles» su primer gran éxito en Estados Unidos.
Por su parte el Pin Floyd Roger Waters interpretó buena parte de la cosecha de la banda británica y arremetió duramente contra la ocupación palestina por parte de Israel y contra Donald Trump con imágenes desde la gran pantalla del escenario con eslóganes como «Donald Trump es un cerdo» o imágenes del candidato a la presidencia  sosteniendo un pene como arma, haciendo el saludo nazi, estando en una campaña del KKK, entre otras lindezas.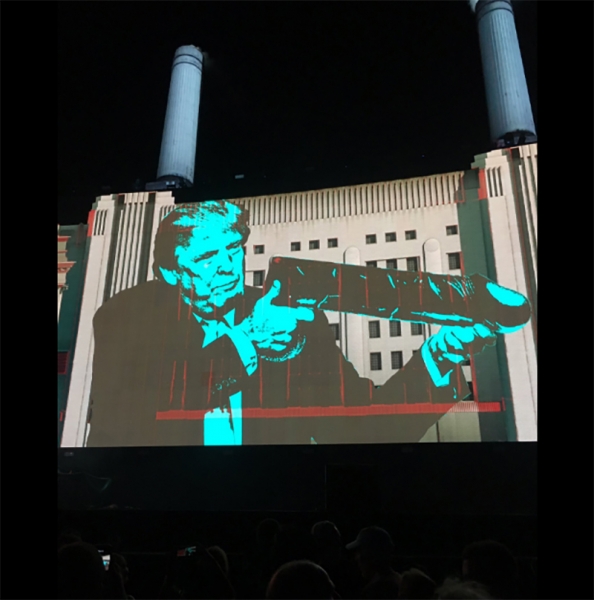 Roger Waters no paró de aludir y mostrar su rechazo hacia ese muro que quiere Donald Trump alrededor de Estados Unidos, y nombrarlo de nuevo arrogante, descarado, sexista y racista.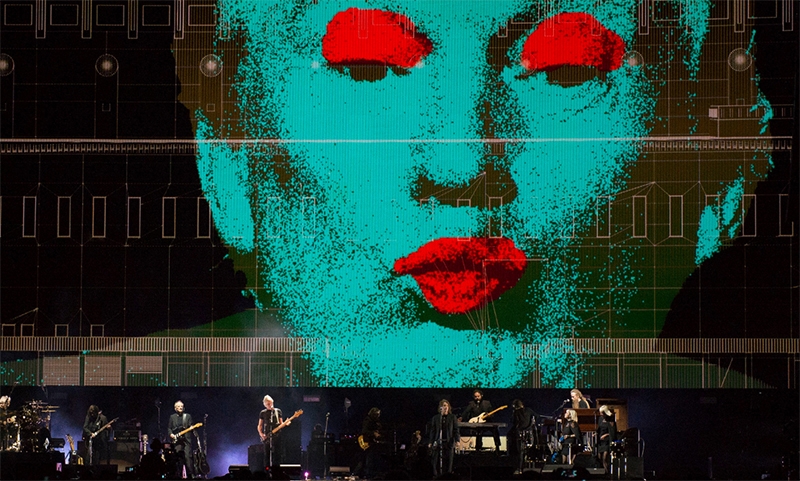 El próximo fin de semana, nuevamente las últimas tres jornadas del Desert Trip festival con los mismos nombre.
Reproductor de vídeo con canciones de The Who esa noche en el Desert Trip festival.
Repertorio de The Who en el Desert Trip Festival el 9 de octubre de 2016:
1. I Can't Explain
2. The Seeker
3. Who Are You
4. The Kids Are Alright
5. I Can See for Miles
6. My Generation
7. Behind Blue Eyes
8. Bargain
9. Join Together
10. You Better You Bet
11. 5:15
12. I'm One
13. The Rock
14. Love, Reign O'er Me
15. Eminence Front
16. Amazing Journey
17. Sparks
18. The Acid Queen
19. Pinball Wizard
20. See Me, Feel Me
21. Baba O'Riley
22. Won't Get Fooled Again
Reproductor de vídeo con canciones de Roger Waters esa noche en el Desert Trip festival.
Repertorio de Roger Waters en el Desert Trip Festival el 9 de octubre de 2016:
1. Speak to Me
2. Breathe
3. Set the Controls for the Heart of the Sun
4. One of These Days
5. Time
6. Breathe
7. The Great Gig in the Sky
8. Money
9. Us and Them
10. Fearless
11. You'll Never Walk Alone (Gerry & The Pacemakers)
12. Shine On You Crazy Diamond (Parts I-V)
13. Welcome to the Machine
14. Have a Cigar
15. Wish You Were Here
16. Pigs on the Wing 1
17. Pigs on the Wing 2
18. Dogs
19. Pigs (Three Different Ones)
20. The Happiest Days of Our Lives
21. Another Brick in the Wall Part 2
22. Mother
23. Brain Damage
24. Eclipse
25. Why Cannot the Good Prevail
26. Vera (acústico)
27. Bring the Boys Back Home (acústico)
28. Comfortably Numb