Aerosmith comenzaron su gira europea denominada "Aero-Vederci Baby" este pasado miércoles en Tel Aviv, Israel en el parque HaYarkon Park , 23 años después de su última actuación en 1994 y ayer sábado 20 en Batumi, Georgia, en ambas ciudades con llenos absolutos.
Aerosmith quisieron rendir tributo a Chris Cornell en su segundo concierto de esta gira europea, fallecido el mismo día que arrancaron su gira europea en Tel Aviv. El primer bis fue dedicado al ex Soundgarden, Audioslave y Temple of the Dog con una intro de "Black Hole Sun" en "Dream On" y con la imágen de Chris en las pantallas del Black Sea Arena de Batumi.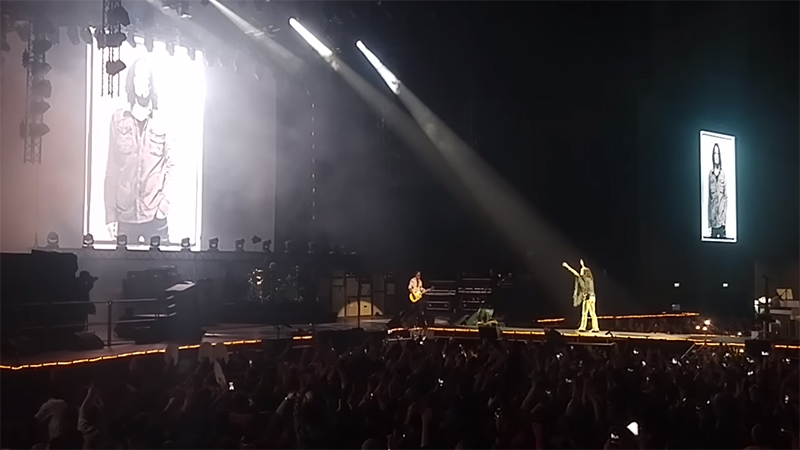 Así es la vídeo entrada de los conciertos de Aerosmith para su gira europea.
El setlist de los dos primeros conciertos de Aerosmith en esta gira europea son prácticamente calcados, comienzan y finalizan con la misma canción, realizan dos versiones de Fleetwood Mac (Stop Messin' Around y Oh Well), otra de Beatles con "Come together" y el "Baby, please don't go" de Joe Williams.
Aerosmith actuarán el 29 de junio en Madrid en el Auditorio Miguel Ríos y en Barcelona el 2 de julio en el Rock Fest Barcelona, dentro de una gira europea que comienza el Tel Aviv, Israel el 15 de mayo y concluirá en Canarias el 8 de julio.
Repertorio del primer concierto de Aerosmith en esta gira europea 2017:
1.Let the Music Do the Talking
2.Young Lust
3.Cryin'
4.Livin' on the Edge
5.Rag Doll
6.Dude (Looks Like a Lady)
7.Crazy
8.Stop Messin' Around
9.Oh Well
10.Sweet Emotion
11.Seasons of Wither
12.Hangman Jury
13.Baby, Please Don't Go
14.I Don't Want to Miss a Thing
15.Janie's Got a Gun
16.Come Together
17.Love in an Elevator
18.Dream On
19.Walk This Way
Fechas de la gira europea de Aerosmith 2017:
17 mayo – Tel Aviv Israel @ Hayarkon Park,
20 mayo– Batumi, Georgia @ Black Sea Arena
23 mayo – Moscow, Russia @ Olympiski
26 mayo- Munich, Germany @ Konigsplatz
30 mayo- Berlin, Germany @ Waldbuhne
2 junio- Krakow, Poland @ Tauron Arena
5 junio- Copenhagen, Denmark @ Royal Arena
8 junio – Sölvesborg, Sweden @ Sweden Rock Festival
11 junio Castle Donington, UK @ Download
14 junio – Dublin, Ireland @ 3 Arena
17 junio – Clisson, France @ Hellfest
20 junio- Cologne, Germany @ Lanxess Arena
23 junio – Florence, Italy @ Firenze Rocks Festival
26 junio – Lisbon, Portugal @ Meo Arena
29 junio- Madrid, Spain @ Rivas Auditorio Miguel Rios
2 julio – Barcelona, Spain @ Rock Fest
5 julio – Zurich, Switzerland @ Hallenstadion
8 julio- Santa Cruz de Tenerife, Spain @ Estadio Heliodoro Rodríguez López