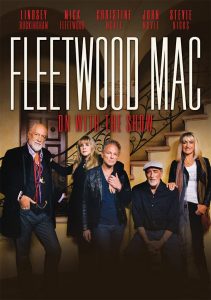 Fleetwood Mac y Christine McVie vuelven a reencontrarse en una nueva gira, 16 años después de dejar la banda la cantante, teclista y ex de John Mcvie en 1988.
Fleetwood Mac acaban de anunciar una nueva gira por Estados Unidos y Canadá por treinta y tres ciudades denomina «On With the Show».
Christine McVie, ex esposa de John McVie, Lindsey Buckingham, Stevie Nicks y Mick Fleetwood comienzan esta nueva gira el próximo 30 de septiembre en Minneapolis.
Christine McVie entró a formar parte de Fleetwood Mac sustituyendo al guitarrista y miembro fundador John Green en 1970, contrayendo matrimonio con el bajista  John McVie en aquella época.
En 1975 la banda ficharía a Lindsey Buckingham y Stevie Nicks, cinco álbumes, dos de ellos «Rumours» y «Mirage» que cambiarían el rumbo por completo de la banda norteamericana.