El próximo fin de semana podremos disfrutar de Trepàt en Tenerife. De la mano de Canarias Suena + y Artistas en Ruta, los granadinos actuarán en el Lone Star de Santa Cruz (el día 26/05/17) y en el Café Quilombo de La Orotava, al norte de la isla, al día siguiente.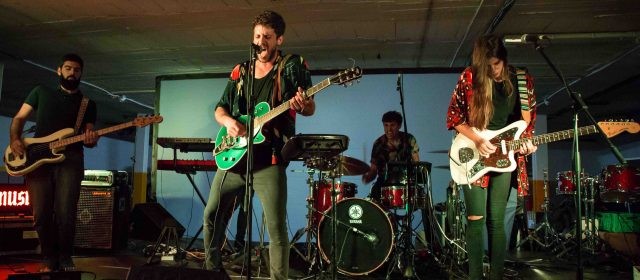 La banda
Esta banda de rock está compuesta por Juan Luis Torné (voz y guitarra), Daniel Molina (teclado, sintetizador), Miriam Cobo (guitarra), Patricia Pasquau (bajo), Alberto Valero (batería). En su inusual ejecución, incorporan ritmos que balancean entre el rock lowcore y el pop. Una voz peculiar, con un timbre grave, la mezcla de arreglos acústicos y algunos casi corales, guitarra y bajo -ingredientes bien manipulados y producidos- hacen de Trepàt una muy peculiar propuesta.
Discografía
En 2014 sacaron su primer disco titulado «La Fiesta Oscura», un trabajo oscuro y denso. Casi de inmediato, en 2015, publicaron un Ep titulado «Caballo». Sin temor a evolucionar, posteriormente, lanzan el trabajo que se encuentran promocionando: «El amor está en la Tierra», también de 2015.
Definitivamente Trepàt suenan a muchas cosas, de antes y de ahora. Y suenan muy bien. Desde clásicos de los 80 como Echo and The Bunnymen hasta grupos recientes y ya consagrados como Beach House.
Escucha El amor está en la Tierra
Recuerda: Trepàt en Tenerife. Viernes 26 y sábado 28. Lone Star y Café Quilombo. Las entradas a 7€ anticipadas y 9€ en taquilla.