Van Morrison publicará el 22 de septiembre un nuevo disco, "Roll With The Punches". Además Morrison anuncia concierto en el WiZink Center de Madrid dentro de la gira europea de presentación de su nuevo disco. Ganador de 6 premios Grammy, el león de Belfast nos visitará el 12 de diciembre en Madrid con un acompañante de lujo: Georgie Fame.
El nuevo disco de Van Morrison cuenta con cinco canciones inéditas del compositor más 10 versiones de grandes clásicos de Sam Cooke John Lee Hooker, Jimmy Witherspoon, Bo Diddley, Little Walter & Mose Allison entre otros. Disco numero 37 tras publicar el año pasado Keep me singing y actuar recientemente por el Primavera Sound de Barcelona y el BBK Music Legends Festival.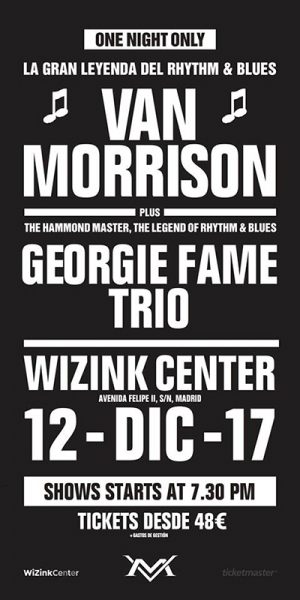 Van The Man, como lo conocen muchísimos compañeros, es uno de los grandes compositores y músicos británicos de Rhythm & Blues y Blues de todos los tiempos, su voz rabiosa junto a sus Them y en solitario ha sabido plasmar para la historia del Rock, alguno de los discos más importantes de la historia del género como "Astral Weeks" (1968), "Moondance" (1970), o "Tupelo Honey" (1971) entre otros, con esa maravillosa combinación de Jazz, Soul, Country, Blues, Swing y Gospel.
Muchos le achacan ese carácter uraño, gruñón o burgués al irlandés, todo lo contrario de quiénes le conocen, con Them, su grupo en los años sesenta y de corta carrera, grabaría dos fantásticos discos con maravillosas canciones "Baby Please Don't Go", "Mystic Eyes" o "Gloria".
Van Morrison gran amante del buen Soul, Blues y Rhythm & Blues de Ray Charles, Sam Cooke, Willie Dixon, Bob Dylan, John Lee Hooker o Little Richard, tras romper su relación con Them, en solitario comenzaría en su debut a ganar terreno con varias obras maestras, "Astral Weeks" (1968), el Jazz, el Gospel, Folk y Soul comenzaba a destacar en su repertorio, "Sweet thing", "Ballerina", "Madame George", "The way young lovers do" o "Cyprus Avenue", son ejemplos de ello.
Listado de canciones del nuevo disco de Van Morrison, Roll With the Punches:
1. Roll With the Punches ( Van Morrison & Don Black)
2. Transformation (Van Morrison)
3. I Can Tell (Bo Diddley & Samuel Bernard Smith)
4. Stormy Monday/Lonely Avenue (T-Bone Walker/Doc Pomus)
5. Goin' To Chicago (Count Basie & Jimmy Rushing)
6. Fame ( Van Morrison)
7. Too Much Trouble (Van Morrison)
8. Bring It On Home To Me (Sam Cooke)
9. Ordinary People (Van Morrison)
10. How Far From God (Sister Rosetta Tharpe)
11. Teardrops From My Eyes (Rudy Toombs)
12. Automobile Blues (Lightnin' Hopkins)
13. Benediction (Mose Allison)
14. Mean Old World (Little Walter)
15. Ride On Josephine (Bo Diddley)