Ray Collins Hot Club volvieron a Valencia por segunda vez al 16 Toneladas el pasado viernes 9 de marzo tras el éxito del pasado año. Nuevamente llenazo y con un estupendo show, los alemanes presentaron nuevo disco 1 TO 5 JIVE con un repertorio de temas de R'N'B, Jump & Jive, Swing, Rock And Roll, y una excelente puesta en escena con los 9 músicos en el escenario liderados por un gran frontman, y una sección de vientos fantástica.
Con temas como Gina, Ringetingeling, Crazy Game Called Love, 1 To 5 Jive, Run Brother Run, mi preferido Barefoot, High Life, Yeah Yeah Baby You're Right, o Bye Bye Paris, los Ray Collins Hot Club ofrecieron una velada fantástica. Los he visto ya varias veces a los alemanes en varios festivales como Screamin' o Surf-O-Rama pero no obstante siempre en una sala acogedora como 16 Toneladas, pese a los llenazos que hay, los he podido disfrutar más.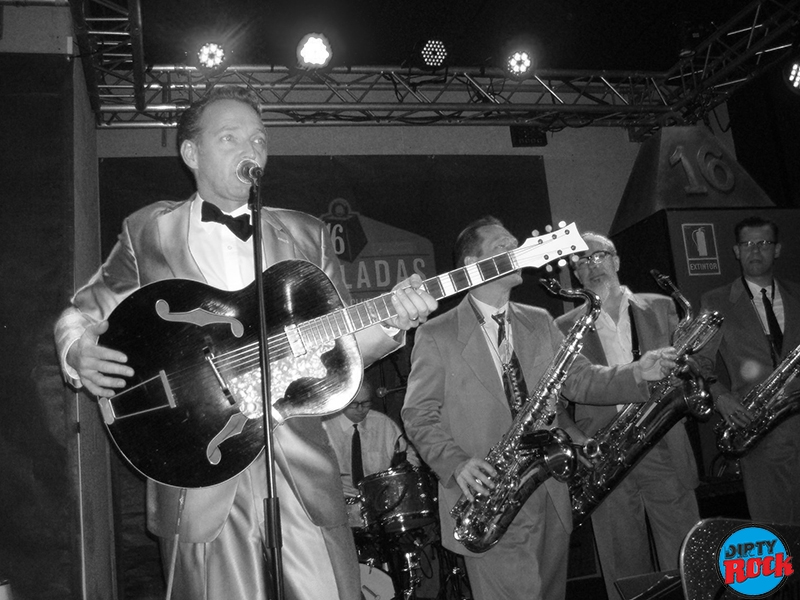 Unos veteranos de la escena con una excelente trayectoria y con discos fantásticos como Honk My Horn, Tohuwabohu, Lord Oh Lord, High Life o este último 1 To 5 Jive que les ha convertido en una de las bandas principales actuales del género.
Texto y fotos por Alex Ruiz.