Como cada año la reunión de seguidores de Neil Young más importante en España y una de las más importantes en Europa llega a su novena edición la IX Rust Fest en Gandía los días 5, 6 y 7 de julio de 2018.
9ª edición del festival tributo a Neil Young que se celebrará en el Pub Dublín de la playa Gandía con las confirmaciones de Mendizabal, Graham Foster Band, Red Compass, Winnie Peg & The Tractors, Danger Bird, The Harvest, Crazy Ponys, Rustie Harvesters y Powderfingers.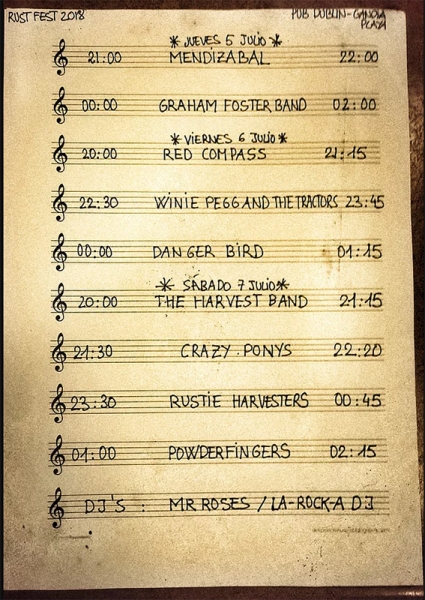 La playa de Gandía está a un par de kilómetros del centro urbano. Si vienes por la AP-7, vengas de donde vengas, tanto si vienes del norte como del sur, toma la SALIDA 60 y coge la N-332, dirección Gandía, hasta la SALIDA 38. Allí incorpórate a la N-337 dirección Playa y Puerto.
Te invitamos al encuentro de fans de Neil Young y amantes de la música en el IX Rust Fest en Gandía, un festival donde Don't cry no tears seguro que sonará en la bella Gandía que está Barstool Blues y todo nos sonará a Drive Back, Stupid Girl y sobre todo a Cortez the Killer, He came dancing across the water…
Un cartel, una ciudad y un festival de traca, cita ineludible en el calendario para el amante de Neil Young y la buena música, avance y calentamiento de motores para una posible gira europea y española de Neil Percival Young.
Keep on Rockin' in the Eree World!!