Love Shot, la banda canaria de rock, presenta su primer trabajo, titulado "Nautilus" en la sala The Paper Club este viernes 29 de junio.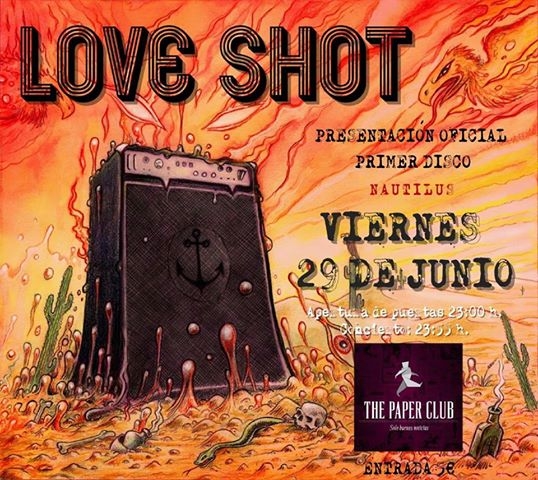 Love Shot, se formó en el año 2017 por unos viejos conocidos de todos los seguidores del circuito canario de rock. Nombres como Alejandro Butler a la voz y la armónica, Juanma Barroso a la guitarra, Marcial Bonilla al bajo o Leo Bea a la batería, forman y han formado parte de interesantes proyectos creados desde las Islas Canarias, como Said Muti, Red Beard, Reciclaje, Oscartienealas o The Blues Riders.
Ahora, unos meses después de su formación, dan un paso al frente y presentan su primer trabajo, bajo la producción de Juan Guedes (Ñoqui) y Haridian Hernández, otros de los habituales en el panorama musical de las islas, con 8 cortes.
Nautilus ya se puede escuchar desde plataformas como Spotify, itunes o Apple Music. Además cuenta con dos vídeoclips elaborados dirigidos por Javier Fleitas en la que apuestan por dos potentes temas de su trabajo: "I'm on Fire" y "Screaming Just Like Yesterday.