Devon Allman Project with special guest Duane Betts, anuncian su primera gira española en agosto visitando tres ciudades. Sábado 18 en en Torreperogil (Jaén) Frank Rock&Blues Festival, 19 en Madrid (Sound Stage) y 20 de agosto en Barcelona (Razzmatazz 3).
Ellos son Devon Allman y Duane Betts, hijos de dos iconos del Rock sureño como Gregg Allman y Dickie Betts de los Allman Brothers iniciaron este proyecto llamado Devon Allman Project tras un concierto homenajeando a su padre, Gregg Allman un año después de su fallecimientoe en Phoenix. Fue tal el flechazo que ambos se pusieron a trabajar en esta nueva colaboración, tras dejar Devon Allman su anterior proyecto, Royal Southern Brotherhood.
Ambos interpretarán canciones de los Allman Brothers, y de sus propios discos. La primera parte será 30 minutos con Duane Betts, después de un pequeño descanso de una hora con Devon Allman y para acabar unos 45 minutos todos juntos de puro rock sureño.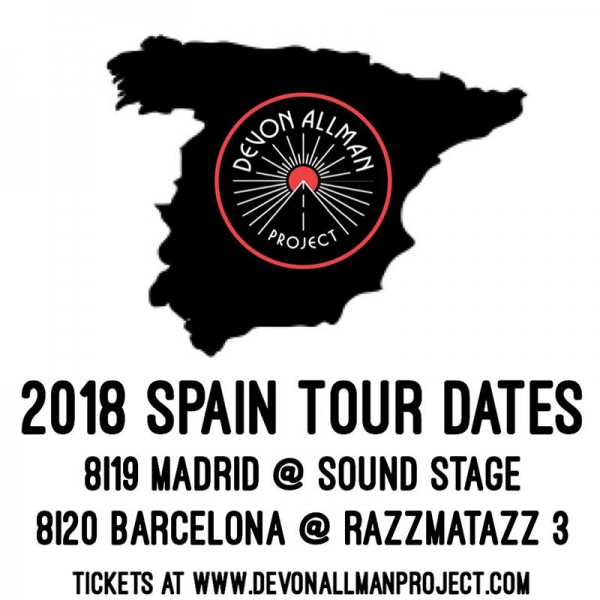 El sexteto Devon Allman Project cuenta entre sus filas con los percusionistas John Lum y R. Scott Bryan, el bajista Justin Corgan, el guitarrista Jackson Stokes y el organista Nicholas David. Duane Betts contará con la ayuda de Johnny Stachela y de Devon Allman en la sección rítmica.
Duane Betts además ha debutado este año con su primer trabajo de estudio, "Sketches Of American Music", un EP de seis temas donde han colaborado monstruos como Steve Cropper, Marc Ford y Stoll Vaughan. La grabación se llevó a cabo tanto en Nashville como en Los Angeles.