The Sadies regresan en abril a nuestras tierras para presentarnos su nuevo disco. El cuarteto canadiense, liderado por los hermanos Dallas y Travis Good, regresan tras su fenemonal «Northern Passages» (2017), aquel décimo álbum por parte de este bandón procedente de Toronto, Canadá, en el que los hermanos Dallas y Travis Good, el bajista Sean Dean y el batería Mike Belitsky, aparte de su habitual paleta de imágenes Surf, Country, Folk, Bluegrass, Garage, Punk y Pop, ahora con Folk ácido y Country Punk en sus canciones, les ha servido para ha servido para rodearse y convertirse en ocasiones como la banda de acompañamiento por excelencia del country alternativo y alrededores: han dado cobertura a nombres como Neil Young, Neko Case, Jon Spencer, Jon Langford, Andre Williams o John Doe.
The Sadies, naturales de Canadá son una de las bandas más respetadas e importantes en su país y Estados Unidos, sus conciertos son realmente explosivos e impactantes al igual que elegantes, como en el cierre de esta trilogía comenzada con sus discos "New Seasons" (2007), "Darker Circles" (2010), e Internal Sounds en 2013, discos con melodías nacidas en el granero del Country Rock y éste último más de garage pero sin perder el aire grasiento Folkie durante estos 23 años de trayectoria musical.
The Sadies han seguido siempre ese rastro dejado por sus compatriotas The Band, el grupo canadiense que acompañó a Bob Dylan en sus mejores años de carretera. En más de veinte años de carrera, The Sadies han mostrado una evolución musical que les ha confirmado como uno de los mejores grupos de la escena musical de la Americana music.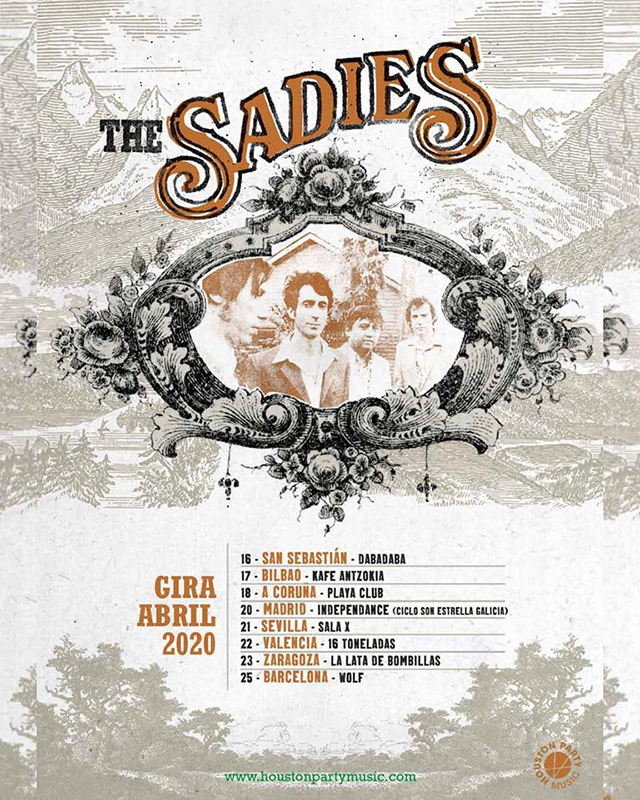 Fechas de la gira de Sadies 2020:
-16 abril en San Sebastián, Dabadaba
-17 abril en Bilbao, Kafe Antzokia
-18 abril en la Coruña, Playa Club
-20 abril en Madrid, Independance (Ciclo SON Estrella Galicia)
-21 abril en Sevilla, Sala X
-22 abril en Valencia, 16 Toneladas
-23 abril en Zaragoza, La Lata de Bombillas
-25 abril en Barcelona, Wolf