Supersuckers publican nuevo disco, Play That Rock 'n' Roll el próximo 7 de febrero. Será el álbum de estudio número 13 de Eddie Spaghetti, junto a Marty Chandler a la guitarra y Chris Von Streicher a la batería. Además Supersuckers presentarán en España su nuevo disco en febrero dentro de una gira que los llevará por 11 ciudades. Jesse Dayton y Andy Carpenter colaboran en el disco a las guitarras.
Crudo, directo es el nuevo disco de Supersuckers: Play That Rock 'N Roll y que se ha convertido exactamente en el álbum de una banda que pasó treinta años ininterrumpidamente en la calle (con la excepción de un descanso de un año durante el cual Eddie luchó contra el cáncer de garganta). Sin lujos, sin estrellas invitadas y tampoco colaboraciones: este álbum merece ser escuchado porque puedes sentir lo que alos Supersuckers les apasiona.
"No voy a parar hasta que lo detenga, no lo dejaré ir hasta que lo deje caer ", gruñe Eddie Spaghetti en la primera canción del disco que grabaron durante cuatro días sofocantes en el estudio de Willie Nelson en Austin, combinando esa ferocidad Motörhead, el humor macabro de Cheap Trick y la arrogancia de Steve Earle, ganándose sus sus espuelas tocando en todas partes. Desde bares de mala muerte hasta tonight shows en televisión. Treinta años después, aquí siguen.
El álbum también incluye las versiones de "Dead, Jail or Rock n 'Roll" de Michael Monroe y "A Certain Girl", de Waren Zevon. Eddie Spaghetti, un vaquero criado en el Punk y un ámbito grunge, supo abrirse a una variedad de estilos como el Country, Cow Punk, Pop gamberro y pétreo rocanrol, donde se despacha las mil maravillas en sus discos y directos
Escucha el nuevo disco de Supersuckers "Play that rock n' roll"
Play That Rock 'n' Roll:
1. Ain't Gonna Stop (Until I Stop it)
2. Getting Into Each Other's Pants
3. Deceptive Expectation
4. You Ain't The Boss Of Me
5. Bringing It Back
6. Play That Rock ' Roll
7. That's A Thing
8. Last Time Again
9. Die Alone
10. Dead, Jail Or Rock N' Roll
11. A Certain Girl
12. Ain't No Day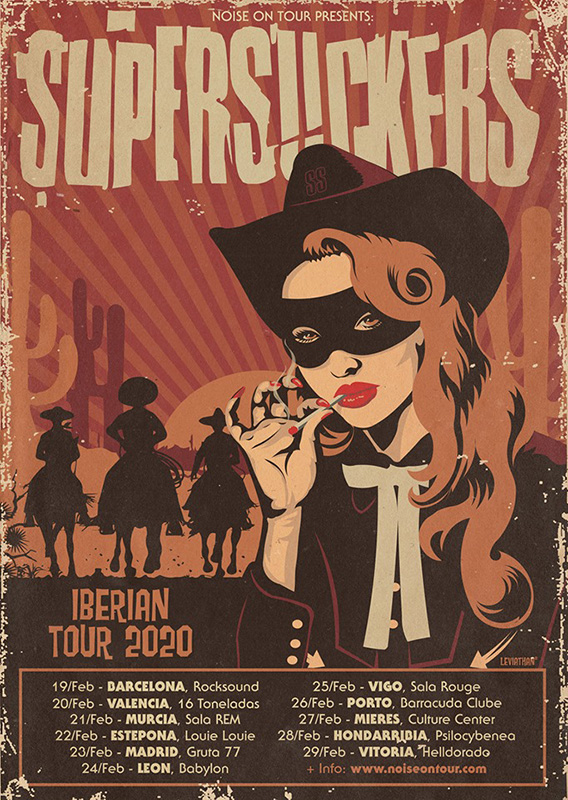 Fechas de la gira española de Supersuckers en febrero de 2020:
19 de febrero de 2020: Barcelona, Rocksound
20 de febrero de 2020: Valencia, 16 Toneladas
21 de febrero de 2020: Murcia, Sala REM Sábado
22 de febrero de 2020: Estepona (Málaga), Louie Louie
23 de febrero de 2020: Madrid, Gruta77
24 de febrero de 2020: León, Babylon
25 de febrero de 2020: Vigo, Sala Rouge
27 de febrero de 2020: Mieres (Asturias), Centro Cultural
28 de febrero de 2020: Hondarribia (Gipuzkoa), Psilocybenea Aretoa
29 de febrero de 2020: Vitoria – Gasteiz, Hell Dorado