Horrorosas noticias para la música que amamos. Tom Stevens, componente de los Long Ryders desde sus inicios, nos ha dejado a los 64 años edad. Tom Stevens, bajista de The Long Ryders y guitarrista, compositor y cantante de Danny & Dusty junto con Dan Stuart de Green on Red y Steve Wynn de the Dream Syndicate y Junkyard Love de Chris Cacavas, Jack Waterson y Gene Clark.
Tom Stevens fue otro de los artífices del movimiento musical ochentero Paisley Underground, siempre estuvo vinculado a este movimiento originado en California en los ochenta y que se encomendaron a la benéfica protección del mejor folk rock psiquedélico de los sesenta y revisando el nervio Punk y garage, junto a Green on Red, Son Volt, REM, The Blasters, Dream Syndicate o Rain Parade auténticos referentes del Country Rock alternativo norteamericano de la época, con sonidos desérticos y arcillosos de Rock fronterizo.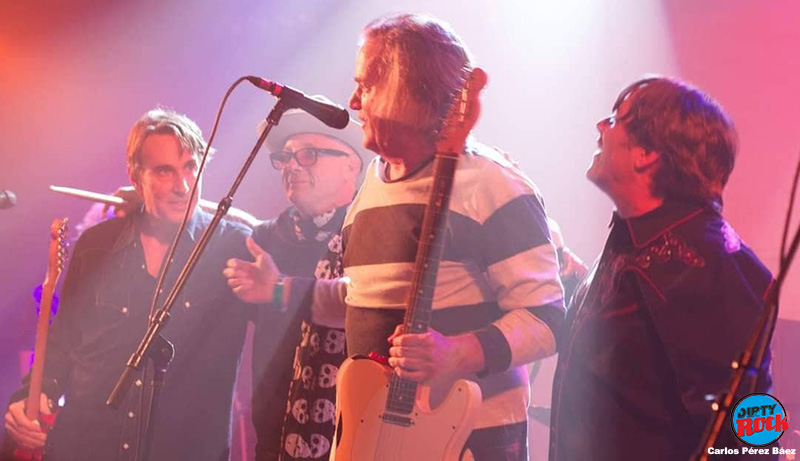 Tom Stevens fue hacedor de varios discos en solitario, colaborador en espléndidos discos tributo, el debut de los Ryders con el mini Lp «10-5-60» en 1983 al que le siguieron «Native Sons» en 1984 Y «State of our Union» en 1985 y el último con ellos en 2019 con «Psychedelic Country Soul» y compositor o músico de sesión junto a The Waterboys, Foxygen y sobre todo con The Donovan's Brain de Ron Sanchez junto a Deniz Tek (Radio Birdman), Bobby Sutliff (The Windbreakers), Ric Parnell (Spinal Tap, Atomic Rooster), Scott Sutherland (Model Rockets), Kris Wilkinson-Hughes (Cicero Buck) y Matt Piucci (Rain Parade).
Gracias por los grandes momentos que nos has dado, Tom. Aquí la canción que compuso para el último trabajo de la banda, con la que han querido despedirle sus compañeros. DEP.
Texto por Javier Casamor y Carlos Pérez Báez.
Fotos por Jesús Díez y Carlos P. Báez.