Los stoner heavy, Freedom Hawk, han lanzado un nuevo sencillo. Esta jam session improvisada y psicodélica de 9 minutos de duración se grabó en una sola toma el 30 de septiembre de 2020. "Liftoff" está disponible ahora, en todas las plataformas de streaming, y se puede descargar desde la Bandcamp de Freedom Hawk.
Heavy stoners Freedom Hawk have released their latest single, "Liftoff». The raw, psychedelic 9-minute freeform jam was recorded in one take on September 30, 2020 and is now available on all digital streaming platforms and downloadable from Freedom Hawk's Bandcamp page.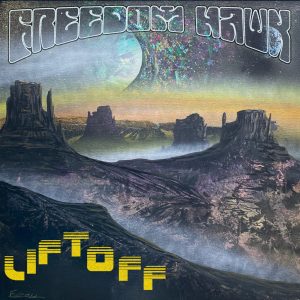 Uno de los mayores misterios de la época moderna es cómo este revoltijo de vintage Black Sabbath y Monster Magnet, mezclado con la voz contagiosa de T.R. Morton (a lo Neil Fallon de Clutch), que recuerda a pre-QOSA Kyuss, se ha mantenido fuera del radar del público durante tanto tiempo. Antes de que la pandemia cancelara sus planes, Freedom Hawk habían realizado giras por todo Estados Unidos e incluso habían tocado en algunos festivales europeos, incluidos Roadburn, Freak Valley Festival, Desertfest London y Desertfest Berlin. Pero, siguen siendo, incomprensiblemente, mayormente desconocidos en muchos círculos.
Su último álbum, Beast Remains, fue uno de los mejores álbumes lanzados en 2018. Gracias al recién llegado Brendan O'Neill a las guitarras, este cuarteto stoner, doom, psicodélico, acid / retro rock, heavy metal (puedes añadir la etiqueta aquí que quieras), nos dieron un álbum sólido, repleto de ocho pistas atronadores y sórdidas de riffs pesados ​​y conmovedores, con ritmos ondulantes. Fue un sonido que era lo mejor de las raíces del heavy metal de los 70, con un toque de hard rock "deprimente". La crudeza y amargura, pero a la vez familiar, duró poco más de 41 minutos, pero fue suficiente para electrizar a los fanáticos, quienes querían más.
One of the greatest mysteries of the modern era is how this cross-breed of vintage Black Sabbath, with a bit of Monster Magnet mixed with frontman, T.R. Morton's Neil Fallon-like vocal hooks, and that takes us back to pre-QOSA Kyuss, has stayed out of the general public's radar for so long. Before the pandemic canceled their plans, Freedom Hawk had toured all over the US and even played at a few European festivals, including Roadburn, Freak Valley Festival, Desertfest London and Desertfest Berlin. But, they are still, incomprehensibly, widely-unknown in many circles.
Their last album, Beast Remains, was one of the best albums released in 2018. Thanks to newcomer Brendan O'Neill on guitars, this stoner, doom, psychedelic, acid/retro rock, heavy metal quartett (or whatever other label you want to add), delivered a solid album, jam-packed with eight thunderous, yet sleazy tracks of heavy, soulful riffs and rolling grooves. They delivered a sound that was the best of '70s heavy metal roots, with a touch of "downer" hard rock. The somehow familiar rawness and bitterness lasted little over 41 minutes, but it was enough to pump fans up, begging for more.
Escucha «Solid Gold«, la pista apisonadora que abre Beast Remains (2018) aquí:
Listen to «Solid Gold«, the bulldozer of an opening track from their 2018 release Beast Remains, here:
Pedimos más, y eso es exactamente lo que nos han dado. El 2 de abril de 2021, Freedom Hawk anunció el lanzamiento de «Liftoff«, un adelanto de su próximo álbum. Los miembros fundadores T.R. Morton (voz / guitarra), Mark Cave (bajo) y Lenny Hines (batería) se han unido una vez más con O'Neill y Ripple Music, el sello independiente con sede en California que no decepciona nunca, produciendo un álbum increíble tras otro.
We asked for more, and that's exactly what they've given us. On April 2nd, 2021, Freedom Hawk announced the release of "Liftoff", a sneak-peek into their upcoming album. Founding members T.R. Morton (vocals/guitar), Mark Cave (bass) and Lenny Hines (drums), have teamed up once again with O'Neill and Ripple Music, the independent California-based label that just keeps cranking out one incredible album after another.
«A pesar de que la pandemia de 2020 nos canceló mientras estábamos de gira, canalizamos toda nuestra energía creativa para crear nuestro propio espacio de grabación/ensayo y escribir un nuevo álbum con 9 canciones. Ahora mismo estamos grabando estas 9 canciones para editarlas en agosto a través de Ripple Music. Esta aventura nos permitió grabar los ensayos y jams improvisados. ["Liftoff" es] un lanzamiento digital [que editamos] a través de nuestro sello de 2008 Magic Lady Records, en asociación con Ripple Music. La increíble portada fue diseñada por el maestro de aerosoles, Mark Fussell», nos comenta la banda en su página web.
El nuevo sencillo de Freedom Hawk, "Liftoff", es un claro ejemplo de cómo este cuarteto de Virginia Beach (VA) ha madurado artísticamente, ya que una vez más, logran un sonido 'heavy psicodélico' de una manera única, aunque familiar, con la vista fija en melodía y sonido. La voz desenfadada de Morton es más expresiva y audaz que nunca, mientras el ritmo melódico y pesado a lo largo de la pista se convierte en un derrame monstruosamente contagioso que te transporta a otra época. Al igual que Black Sabbath, sus predecesores proto-doom, Freedom Hawk ha demostrado que no se apegarán a ningún género que les pueda encasillar.
"Despite the pandemic of 2020 cancelling us while on tour, we channeled all our creative energy into setting up our own recording/rehearsal space and writing a new 9 song album. We are right now recording these 9 songs for an August release via Ripple Music! Part of this journey allowed us to record every rehearsal and spontaneous jams. This is one of them — a 9-minute spontaneous live jam single. This will be a digital only release through our 2008 imprint Magic Lady Records, in partnership with Ripple Music. Killer cover artwork was designed by aerosol master, Mark Fussell," states the band on their website.
Freedom Hawk's new single "Liftoff" is a clear example of how this four-piece from Virginia Beach (VA) has matured artistically, as they once again pull off 'heavy psychedelia' in a unique, but familiar way, with a clear focus on melody and sound. Morton's laid-back voice is more expressive and full of grit than ever, while the weighty, melodic groove throughout the track crescendos into a monstrously infectious flow that transports you to another era. Just like Black Sabbath, their proto-doom predecessors, Freedom Hawk has proven that they are not about to get pigeonholed in any restricting genre or sub-genre!
For more information on FREEDOM HAWK, visit their official page on Facebook or their Bandcamp page.