When I used to think about Greece, visions of gods and goddesses like Zeus, Athena or Aphrodite would come to mind… or Tommy Lee (MÖTLEY fu$%*ng CRÜE's drummer), because he never shuts up about being 'Greek'. That said, for the past decade or so, that has changed: now I think of other gods and goddesses like 1000mods or Puta Volcano. I think of rock, stoner and heavy psych…
The truth is that I can't wrap my head around the fact that these groups aren't more well-known all over the world. In fact, one of the bands I consider to be the epitome of eighties heavy power metal, CRUSH, has been so snubbed that it's practically a cult band, even though 'Kingdom of The Kings' is a masterpiece. It's unbelievable to me that they never got much further than their native Athens.
There are probably very few people who think of Greece when they think of rock, but we think that should change. I'm fortunate enough to have Rafa, a friend of mine who also loves this music scene and, since 1000mods are (finally!) going to be touring here in Spain and Portugal, we were talking a little about some of these groups that we think deserve to be discovered and/or more appreciated. Here's the gist of our conversation:
J: I'm so excited to finally see 1000MODS here in Spain! It's been a while since they were last here and I've been listening to them for years, but it wasn't until last year at the SonicBlast festival 10th anniversary in Portugal, when we were able to see them live. Their songs and their energy were so untamed that I still think they should've been the ones to bring the festival to a close. I can't want to see them as the headliners and with a longer setlist!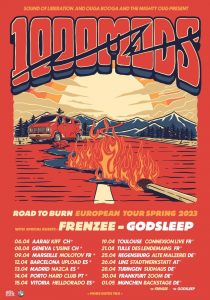 R: I know! You'd been telling me about them for a long time, but I was still blown away when we saw them last year in Portugal. It's like they have everything in check, but their dense sound with those impeccable melodies stay in your head for days. I love it when they start with a melody and build up the rhythm and the strength of the song. There's nothing really intricate about their chords nor are they master shredders, but it's all so catchy and they're just so effective with everything they do.
J: Yeah, I remember looking around us and watching the mosh go absolutely wild that night! Another thing I like about them is that they don't seem to care about being 'famous'. It's so refreshing, especially nowadays when everything seems to be based on a band's image rather than their music.
R: You're right, their attitude on stage is like their just a couple of buddies coming out to play for us.
J: Actually, apparently that's how the band started out. A few friends who liked the same music and who vacationed in the same town (hence, the name: one day, George was a little plastered and he came up with a funny translation of their town – Chiliomodi, «1000» + «modi»). They each grabbed an instrument, hooked up some vintage '70s Orange amps and started jamming. And how lucky we are that they did!
1000MODS ARE: Dani G. (vocals, bass), Gianni S. (guitar) Lab G. (drums), George T. (guitar)
INFLUENCES: Blue Cheer, MC5, Black Sabbath, The Stooges
THEY REMIND US OF: Kyuss and other desert bands, mixed with old school hard rock
OUR FAVORITE TRACK: "Electric Carve"
DON'T PASS UP: "So Many Days", "Lucid", "Pearl"
FUN FACT: The picture on the album of 'Youth of Dissent' is actually a real 20th century American mugshot
ALBUMS: Blank Reality EP (2007), 1000mods Vs. Wight (limitad edition cassette, 2010), Super Van Vacation (2011), Vultures (2014), Repeated Exposure To… (2016), Youth of Dissent (2020), Warped Pizza Box (2021 compilation)
J: Speaking of 1000mods and their upcoming tour here, we're also going to be able to see FRENZEE opening for them. Do you think they should be part of this list? Would you say they are Australian or Greek?
R: I'd say that their style is more punk'n'roll and since their musical beginnings were in Greece, I guess I'd consider them to be more Greek than Aussie.
J: Well, the fact of the matter is that these three punkster siblings sure have a lot of passion and chemistry. And yet it's that angsty, femme-fatale attitude, chuck-full of rebellion that makes me want to see them on stage.
R: Exactly. Their songs are short and straightforward, and although they haven't exactly invented the wheel, they do what they do really well. You get hooked on the choruses and they definitely make a lot of noise!
FRENZEE ARE: Adonis, Nick, Apollonia
INFLUENCES / THEY REMIND US OF: AC/DC, Motörhead, RATM, Green Day, Fugazi or even The Prodigy
OUR FAVORITE TRACK: "Fire in My Gut" and its groovy riffs
CAN'T PASS UP: "Sane To Insane"
FUN FACT: Their label, Ouga Booga and the Mighty Oug Records, is owned by 1000mods.
ALBUM: Frenzee (2022)
J: Whenever I hear Apollonia sing, I imagine an angry Kim Deal (PIXIES / THE BREEDERS) on whatever Courtney Love (HOLE) was taking in the '90s (laughing)… But she isn't the only goddess in flesh and blood who has come out of Greece.
R: Not at all. There are a lot of Greek bands with women fronting them. It's sad that this still surprises us these days, but in this testosterone-filled industry, it sticks out, doesn't it?
J: Take GODSLEEP, for example. Although they sometimes sound almost like a 1000mods cover band, Amie's powerful voice and presence is undoubtedly impressive. The band's melodic, almost alternative, rock has made them very loved in Greece.
R: It's true, until Amie's voice hits you, you might think it's 1000mods. But they have a very powerful base and really catchy riffs; lots of '70s psychedelia and doom metal. Everyone says that they have an amazing live show, so with a little luck, we might be to see them soon.
J: By the way, they're releasing their third LP, 'Lies To Survive' on April 7th, so we'll have to keep an eye out for that…
GODSLEEP ARE: John Tsoumas Guitarra (guitar), Amie Makris (vocals), Fedonas Ktenas (bass), Dennis Panagiotidis (drums)
THEY REMIND US OF: a bluesy Black Sabbath and a handful of stoner bands
OUR FAVORITE TRACK: "Basic (The Fundamentals of Craving)" (showcases Amie's voice)
CAN'T PASS UP: «Ded Space», with a real grunge feel
ALBUMS: Thousand Sons of Sleep (2015); Coming of Age (2018)
J: Well, if we're talking about goddesses, we can't leave out one of the greatest groups I've recently come across: PUTA VOLCANO. In fact, I discovered them thanks to you, Rafa.
R: That's right. Naxatras was playing last April here in Madrid and even though I had heard of them, I wasn't sure about going to see their show. But I was curious about the name of the supporting act – Puta Volcano – and after looking into them a little and listening a lot, I made up my mind and we both went to Madrid's Caracol that night to see them. Anna's voice, paired with those melodies and that guitar, made for some really catchy rhythms and a brutal rhythmic base… I listen to them a lot. It was a shame they had so many problems with their sound that night, wasn't it?
J: Yeah, but they were very patient and professional about it all. Actually, I almost forgot about all that because their live performance blew my mind. Yeah, there's some stoner and heavy psych overtones in there, but they also have something that I can't quite explain: Anna sings with this contained rage, but at the same time, there's this elusive strength beneath it all. She takes over you.
R: Definitely. And you were able to chat a little with Anna while they were trying to fix the sound issues…
J: Yep! That's what happens when you know some English and you're always in the front row (laughing)… I really, really can't wait to see them again, this time at the top of the bill, so we can really enjoy their overpowering show.
PUTA VOLCANO ARE: brother and sister, Anna "Luna" Papathanasiou (vocals) and Alex Papathanasiou (guitar), Stefanos Stefanidis (drums) & 'Bookies' (bass)
INFLUENCES: The Beatles, Nirvana, Radiohead, Nina Simone, Motorhead, Michael Jackson, John Cage, Led Zeppelin IV
THEY REMIND US OF: Tool, Gojira, Alice in Chains and other '90s Seattle bands
OUR FAVORITE TRACK: I can't choose among so many of them that I love, but I'd probably have to say either "Neon" or "Bird"
FUN FACT: The cover of AMMA depicts a replica of Anna's bust that she made out of white chocolate. It was part of a performance called «EAT» that she did in 2018 in New York, she was eating it up; consuming it. The silver blanket is similar to one that refugees receive in camps. She sees it as if you are like a refugee in your planet.
ALBUMS: Represent Victory Below Eye (2011), The Sun (2015), Harmony of Spheres (2017), AMMA (2020)
J: In fact, when we saw NAXATRAS that same night, I have to admit that it was one of the few times that a live show didn't live up to my expectations.
R: Maybe. It was a little monochromatic, especially after having seen Puta Volcano. I guess it was a bit of a let-down.
J: Obviously, we're not going to immediately fall in love with just any Greek group. It's just a simple matter of taste. However, there is one thing that most of them seem to have in common: they were probably, at one time or another, inspired in some way by their fellow Hellenes, NIGHTSTALKER.
R: No doubt about it. Most people consider Nightstalker to be the forefathers of the Greek scene and, like Crush, basically a cult band. Although apparently, they don't seem to like to be pigeonholed…
J: Who does? I try not to put labels on groups, but it's hard. It does seem to give you an idea of what you're getting into sometimes, even when how you describe them has nothing to do with what the band is trying to do…
R: Well, what's clear is that Nightstalker is heavy, thanks to those impressive riffs: it's a real raw rock 'n roll with a heavy bass line. And, when you put all of that together with a bunch of catchy melodies and the power of Argy's voice, it's a fantastic combination. They are actually about to go on tour, but unfortunately, it doesn't look like they'll be stopping over in Spain any time soon.
J: We're used to it here… I guess we'll just have to wait patiently.
NIGHTSTALKER ARE: Argy Galiatsatos (vocals), Andreas Lagios (bass), Tolis Motsios (guitar), Dinos Roulos (drums)
THEY REMIND US OF: Sometimes '70s hard rock, sometimes '90s grunge, and others, Monster Magnet
OUR FAVORITE TRACK: "Go Get Some" (Dead Rock Commandos)
FUN FACT: They created their own record label called Mad Prophet Records in 2004, and have shared the stage with heavyweights like Monster Magnet, Kyuss and Sleep.
ALBUMS: SideFx (1994), Use (1996), The Ritual (2000), Just a Burn (2004), Superfreak (2009), Dead Rock Commandos (2012), As above, so below (2016), Great Hallucinations (2019)
J: Before continuing with a few somewhat lesser-known groups, it's impossible to go on without mentioning two of the (arguably) best-known groups of this scene. ACID MAMMOTH is one of them. Their name says it all: they're just as colossal as mammoths must have been. After self-releasing their first record in 2017, they signed with the equally colossal Heavy Psych Sounds Records and were very active in 2020 as they worked on making doom of the utmost heaviness. The powerful, addictive, father and son duo with their Sabbath-like guitar riffs, those mesmerizing vocals, and the thundering rhythm section spawn an earthshaking doom/fuzz.
R: You've said it all. They're a benchmark for all Greek bands: very Sabbath and even Ozzy-like voices, but with a dirtier and more overwhelming stoner/doom sound.
J: I'm super stoked to see what their next album is going to be like!
ACID MAMMOTH ARE: Chris Babalis Jr. (vocals, guitar), Dimosthenis Varikos (bass), Marios Louvaris (drums), Chris Babalis Sr. (guitar)
THEY REMIND US OF: early Black Sabbath (especially when you hear Chris' voice), Electric Wizard, Saint Vitus, Sleep…
OUR FAVORITE TRACK: "Jack The Riffer"
FUN FACT: The album art for their first self-titled, self-released album was designed by popular Greek comic artist, scriptwriter and occasional actor, Yiannis «Rubus» Rubulias.
ALBUMS: Acid Mammoth (2017), Under Acid Hoof, 2020 (heavier, darker and fuzzier), Doom Sessions Vol. 2 (2020), Caravan (2021)
R: …which brings us to another band that is also pretty well-known, especially in Greece: PLANET OF ZEUS. They've been around since 2000. Sometimes they remind me of sleaze bands, with those melodic voices and that dirty sound, but they're not so raw. And other times, they're almost guttural.
J: I think they're different and original. They have a really awesome groove going on but they're still really metal. They started out sounding all '70s psychedelic rock, but now they're much heavier, and with a southern stoner touch at times…
PLANET OF ZEUS ARE: Serapheim G (drums), Yog (guitar), Babis (guitar, vocals), J.V. (bass)
INFLUENCES: southern rock, metal, Down, Clutch, Black Sabbath, Mötörhead…
THEY REMIND US OF: Clutch (they even toured with them on their European tour, 'Psychic Warfare')
OUR FAVORITE TRACK: «Leftovers»
FUN FACT: Babis came up with the name PLANET OF ZEUS during a high school astronomy class
ALBUMS: demo-CD (Loop 430), Junkyard Vol. 1 & 2, Eleven The Hard Way (2008)
R: After coming across Puta Vulcano and 1000mods, I was curious to see what else was going on in Greece. Thanks to Spotify and some reviews from our buddy Roberto, from Denpafuzz, a whole world opened up in front of me, full of really fantastic groups that were doing some pretty varied and interesting things. I don't know if this ever happens to you, but sometimes I listen to a group and then when I see where they're from, I'm surprised. That happened when I discovered HALOCRAFT, for example. They're from Giannitsa, in the north of Greece, and do this kind of psychedelic experimental post-rock. In their own words: «Our music is meant to isolate you from this world and take you on a journey of your own.» They have this warm, sad sound, especially when they slow down the rhythms. In fact, they play a lot with that, and sometimes rev things up to light-year speed.
J: They are definitely much more subdued than most of the groups we've been talking about, but that's the beauty of music: there's something for any and every minute of your life. And of course, Roberto is the man and what he says, goes (laughing)…
R: The thing with Halocraft for me, is that there's this kind of melancholy in their songs. The melodies relax me, and their fantasy-inspired album art really caught my attention, too.
J: Yes, they have a real TOUNDRA vibe.
HALOCRAFT ARE: The call themselves "extraordinary rabbit" (guitar), "magnificent wolf" (drums), "marvelous cat" (guitar, keyboards), "majestic fox" (bass)
INFLUENCES: We Lost the Sea, Explosions in the sky, God is an Astronaut
OUR FAVORITE TRACK: : "Chains for the Sea"
FUN FACT: The musicians appear on stage wearing animal masks (they keep their identity hidden from the public) and their songs are a mix of classic fairy tales and Lovecraftian horror and their two LPs are part of a trilogy that will also be published as a comic.
ALBUMS: "The City in Your Eyes" (2016), «Chains for the Sea» EP (2017), «Chains for the Sea» LP (2018), "A Mother to Scare Away the Darkness» (2021)
R: After I discovered Halocraft, one thing led to another, and I came across VILLAGERS OF IOANNINA CITY, this rare combination of stoner and psychedelic rock, shrouded in Greek folk music from the Epirus region. They use the clarinet, the kaval and bagpipes. Their folk-fused psychedelia is extremely personal and the clarinet takes the lead. With their heavy guitar riffs, intricate drum patterns and wonderful vocal and bagpipe melodies, they create a richly nuanced atmosphere. You can't tell me they're not original…
J: Original in terms of their sound, yes: they sound almost 'tribal'. But, since there's not much variation, sometimes it's hard to tell one track apart from the next.
VILLAGERS OF IOANNINA CITY ARE: Alex Karametis (guitar, vocals), Akis Zois (bass), Aris Giannopoulos (drums), Konstantis Pistiolis (clarinet, kaval, back-up vocals), Konstantinos Lazos (bagpipe, winds), Kostas Zois (guitar), Achilleas Radis (keyboard)
INFLUENCES: they say they are heavily influenced by Greek nature
OUR FAVORITE TRACK: "Welcome"
ALBUMS: Riza (2014), Age of Aquarius (2019)
R: And what about HYPNOTIC NAUSEA?
J: I love them! They have some amazing beats!
R: At first they kind of had me confused. I thought «What is this?» But, once I really started listening, I thought they were awesome. With their artsy, progressive rock, don't they sometimes remind you of some of those great '70s concept albums?
J: Totally. You really have to dedicate some time and really listen to them and you'll get it…
HYPNOTIC NAUSEA ARE: George (guitar, vocals), Monkey (bass, vocals, synthesizer), Nikos (drums, samples), Fotis (lights, video)
INFLUENCES: Tool
OUR FAVORITE TRACK: "Holy City"
FUN FACT: The special vinyl edition of 'The Death of All Religions' will be accompanied by a twenty-four page comic strip which was created by their own bassist George P. (Gmonkey Cartoon).
ALBUMS: Hypnosis (2015), The Death of All Religions (2019)
R: And what about any other bands that you've recently uncovered? Anything worth listening to?
J: Well it depends on how much time you have (laughing)… There's TUBER: I love them! They're instrumental with a mix of bases and this techno-like bass that's simple but really rock. Their track «Last Drop» conjures up a couple of gunslingers in a modern western showdown. I also like DEAF RADIO – it's a grungy rock with a lot of punch in their verses and hooky choruses – very QOTSA. And they were touring with one of our favorite bands, ALL THEM WITCHES. Actually, I could go on all day about cool Greek rock bands: VOID DROID, ROCKIN BONES, MAHAKALA, DOOMERS 1782, PURPLE DINO, BONZE'S FUEL (very bluesy-psych), HONEYBADGER… It also depends on the kind of music you listen to. For example, if you like STAIND, check out JACKS FULL. If you like Scandinavian garage/fuzz, you'll probably like THE NOISE FIGURES (more or less newcomers). If you like CORROSION OF CONFORMITY, listen to DENDRITES. If you like FAITH NO MORE or HELMET, you're going to like THE DARKSTAR (they have a more modern sound than some of the others here). In fact, when they started out in 2004, they played some pretty old-school-hardcore, but after a lot of lineup changes, their sound evolved into what it is now.
R: Yeah, and without labelling any of them, there are a handful that remind me of CLUTCH, for example. HALF GRAMME OF SOMA mixes hard rock harmonies with groove, grunge and lots of pedals and effects to create a captivating sound that will have you raising your fists in the air as soon as you press play. HIDDEN IN THE BASEMENT too, with those restless voices: their riffs remind me of Clutch, but also of some '80s hair and glam bands. And finally, even though they're no longer together, LORD 13. For a while, they were really well-known for their electric and ecstatic live shows.
J: Exactly. LORD 13's name caught my attention. I thought they maybe took it from the 1999 movie 'Beowulf' that features MONSTER MAGNET's track «Lord 13» from their early 90s EP, Tab. Plus, they were entrepreneurs and, like us, 'bearers of good music' (laughing). In the summer of 2005, Lord 13 organized the first summer rock music festival on the Greek island of Antiparos. Thanks to them, for 3 days, fans were able to see 24 bands play on that beautiful island, including some of the bands we've just mentioned.
R: Well Jess, I think we've made it clear that there's a lot of great Greek music to listen to, if you haven't already. While some of them may be more renowned than others, they're all making waves and coming up strong. We're really looking forward to seeing some of them live.
Text: Jessica Jacobsen / Rafael Pajares González
—-> Para leer el artículo en español
1000mods Web, Instagram, Facebook
Puta Volcano Web, Instagram, Facebook
Crush Facebook
Frenzee Web, Instagram, Facebook
Godsleep Bandcamp, Instagram, Facebook
Naxatras Web, Instagram, Facebook
Nightstalker Web, Instagram, Facebook
Acid Mammoth Web, Instagram, Facebook
Planet of Zeus Web, Instagram, Facebook
Halocraft Web, Instagram, Facebook
Villagers of Ioannina City Instagram, Facebook