Los premios de la Americana music en esta edición de 2023 celebrado este pasado 20 en Nashville han recaído en los nombres de Tyler Childers con el mejor álbum Americana del año con «Can I Take My Hounds to Heaven?«, mejor canción para "Just Like That" de Bonnie Raitt, artista del año para Billy Strings, dúo o grupo Americana del año para The War and Treaty, premio al nombre o grupo emergente de Americana para S.G. Goodman e instrumentistas del año para SistaStrings (Chauntee y Monique Ross). Si quieres ver la ceremonia de entrega de premios de la Americana 2023, dale al play:
La academia de la Americana music reconoció la labor y trabajo de una vida a artistas como Los Avett Brothers y Nickel Creek, Patty Griffin, Allison Russell, Bettye LaVette, Buddy Miller y George Fontaine Sr., cofundador y propietario de New West Records, el premio a la trayectoria de Jack Emerson como ejecutivo.
La velada también incluyó homenajes a dos álbumes que celebraban su 50 aniversario: Closing Time de Tom Waits (Rufus Wainwright hizo los honores) y There Goes Rhymin' Simon de Paul Simon (Milk Carton Kids y Noah Kahan rindieron homenaje). Logan Ledger abrió el espectáculo con un tributo póstumo a Jimmy Buffett, con una interpretación del gran éxito del cantante y compositor de 1974, «Come Monday».
Un tributo de varios artistas a Robbie Robertson, a través de una interpretación de "Up on Cripple Creek", el éxito de 1969 que escribió para The Band, cerró el espectáculo. Otros artistas en el cartel fueron 49 Winchester, Adeem the Artist, Allison Russell, Angel Olsen, The Avett Brothers, Bettye LaVette, Bonnie Raitt, Brandi Carlile, Brandy Clark, Hermanos Gutiérrez, Margo Price, Nickel Creek, Patty Griffin, SG Goodman, Sunny War, The war and The treaty y William Prince. La banda de la casa como es habitual la compusieron Larry Campbell, Buddy Miller y Don Was junto a otra sorpresa como fue la aparición del actual batería de los Stones, Steve Jordan tocado para Bettye LaVette.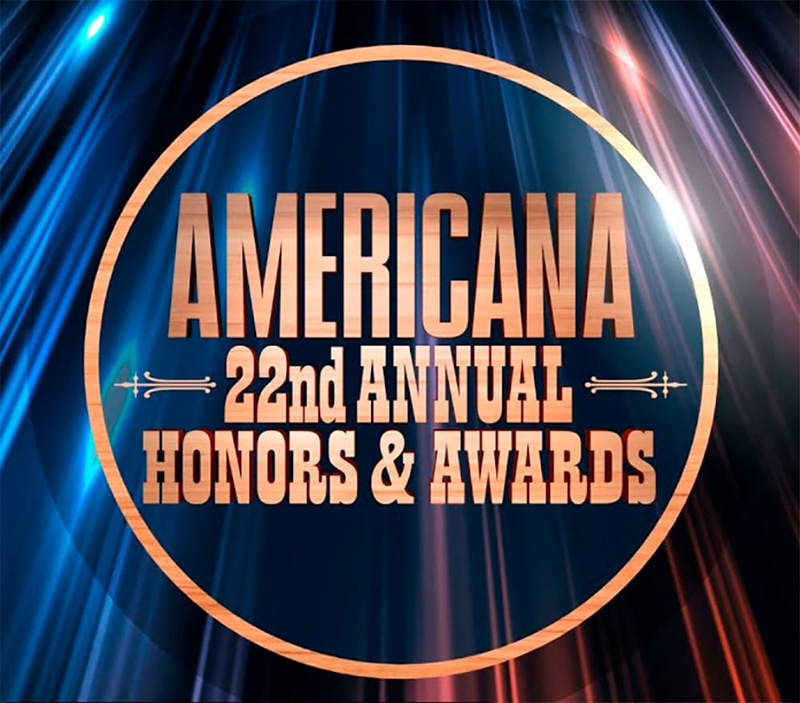 Lista de premiados de la Americana Music Awards 2023:
Los ganadores aparecen en negrita entre los nominados.
Álbum Americana del año:
Big Time, Angel Olsen; producido por Angel Olsen y Jonathan Wilson
*Can I Take My Hounds To Heaven?, Tyler Childers; producido por Tyler Childers
El Bueno Y El Malo, Hermanos Gutiérrez; producido por Dan Auerbach
The Man from Waco, Charley Crockett; producido por Bruce Robison
Strays, Margo Price; producido por Margo Price y Jonathan Wilson
Artista America del año:
Charley Crockett
Sierra Ferrell
Margo Price
Allison Russell
Billy Strings
Dúo o grupo Americana del año:
49 Winchester
Caamp
Nickel Creek
Plains
The War and Treaty
Artista emergente del año de la Americana:
Adeem the Artist
S.G. Goodman
William Prince
Thee Sacred Souls
Sunny War
Instrumentalista Americana del año:
Isa Burke
Allison de Groot
Jeff Picker
SistaStrings (Chauntee and Monique Ross)
Kyle Tuttle
Canción Americana del año:
"Change of Heart," Margo Price; escrito por Jeremy Ivey, Margo Price
"I'm Just a Clown," Charley Crockett; escrito por Charley Crockett
"Just Like That," Bonnie Raitt; escrito por Bonnie Raitt
"Something in the Orange," Zach Bryan; escrito por Zach Bryan
"You're Not Alone," Allison Russell presentando a Brandi Carlile; escrito por Allison Russell
Premios Americana a una vida, pioneros y legado:
Jack Emerson Lifetime Achievement Award: George Fontaine, Sr. of New West Records
Legacy of Americana Award: Bettye LaVette
Americana Music Association's 2023 Trailblazer Award: Nickel Creek
Spirit of Americana/Free Speech in Music Award: Allison Russell
Lifetime Achievement Award: Patty Griffin
Lifetime Achievement in Performance: The Avett Brothers